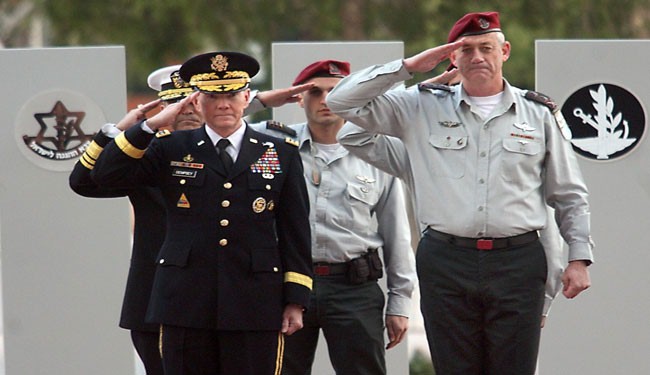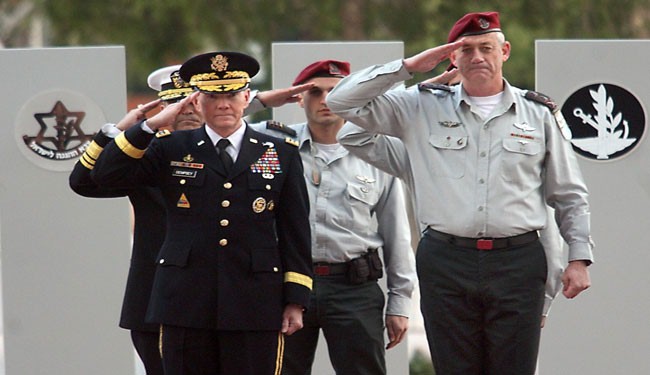 The Israeli regime is pursuing a joint arrangement with Saudi Arabia to provide military training for foreign-backed insurgents in Syria that aim to destabilize and overthrow the Damascus government.
According to Monday reports by the Israeli media, citing US military sources, the subject of training the insurgents in Syria was brought up during a meeting between Tel Aviv regime's Chief of Staff Benny Gantz and the visiting Chairman of the US Joint Chiefs of Staff General Martin Dempsey in al-Quds (Jerusalem).
The two discussed the prospects of security cooperation between Tel Aviv and some other despotic Arab states in the Persian Gulf.
Dempsey said during a joint press conference in al-Quds that the talks included "an outreach to other partners who may not have been willing to be partners in the past."
US military officials said the cooperation would also include intelligence-sharing and "joint counterterrorism" exercises.
The Israeli military chief reportedly convinced Dempsey that they could deal with the threats posed by radical elements in Syria.
A number of US officials have warned that the growing extremism among the foreign-backed insurgents in Syria could lead to a breeding ground for terrorist networks that would operate worldwide.
Syria has been gripped by deadly violence since 2011. An estimated 130,000 people have been killed and millions displaced due to the violence fueled by the foreign-backed militants.
Western powers and some of their regional allies – especially Qatar, Saudi Arabia and Turkey – are reportedly supporting the militants operating inside Syria.