Human Rights
Palestine
Zionist israeli forces attack Friday marches against settlement and wall in W. Bank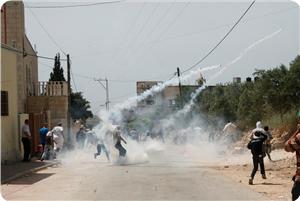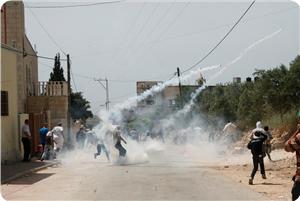 The Israeli occupation forces (IOF) quelled on Friday afternoon the peaceful marches that were held against settlement activities and the segregation wall in different West Bank villages.
In Kafr Qaddum village west of Nablus city, the IOF aggressively attacked Palestinian and foreign protestors demanding the opening of the main road of the village, which has been closed for more than a decade.
Dozens suffered tear gas injuries when they arrived at the Israeli barriers blocking the main road.
In another village near Ramallah, many suffered suffocation when the IOF showered their anti-wall march with a barrage of tear gas grenades.
Others also suffered minor injuries from rubber bullets upon their arrival at Abu Leimoun area where the segregation wall is located.
For his part, a senior official from the popular committee against the wall and settlement in Masarah village in Bethlehem city said that a march of Palestinian and foreign activists moved from the village towards the Palestinian lands appropriated by Israel for settlement expansion.
During the march, Israeli soldiers attacked the activists with batons and prevented them from reaching the seized lands, the official added.
Three protestors, including a child, were reported wounded during the soldiers' attack.
Other activists participating in Nabi Saleh village march north of Ramallah city also suffered injuries from tear gas grenades and rubber bullets as they were protesting Israel's settlement activities in the West Bank.