Palestine
Zionist Israeli forces kill Palestinian man in occupied West Bank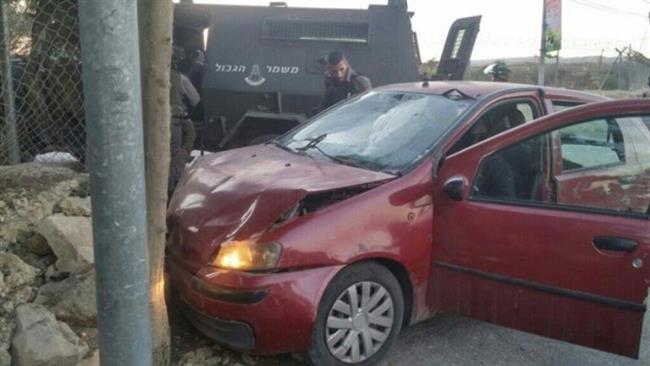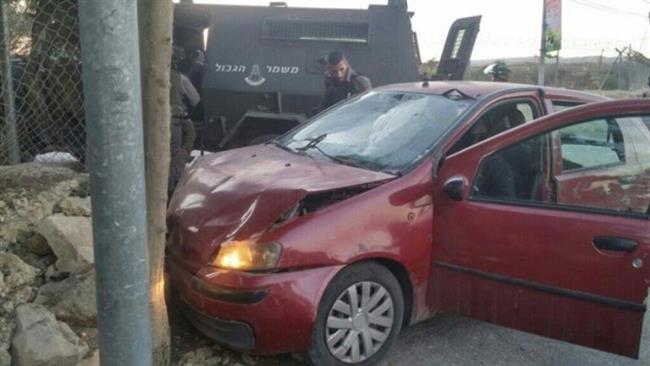 Rabid dog Israeli military forces have fatally shot a young Palestinian man in the occupied West Bank, alleging that he attempted to carry out a car-ramming attack.
The deadly incident occurred on Route 60 near the village of Beit Ummar northeast of the flashpoint city of al-Khalil, aka Hebron, early on Sunday evening, the Palestinian Ma'an News Agency reported, identifying the victim as Khalid Ahmad Elayyan Ikhlayyil, 23 years old, from the village.
According to a statement released by the Israeli military, the Palestinian driver was killed by Israeli gunfire after carrying out a car-ramming attack in the vicinity of the illegal settlement bloc of Gush Etzion close to the village, adding that three Israeli troops also sustained light injuries in the alleged attack.
On Friday night, another Palestinian man was critically wounded by Israeli security forces' fire at a checkpoint near the settlement of Ofra in the central West Bank, north of Jerusalem al-Quds. Israeli military claimed that the man allegedly attempted to run over Israeli soldiers with his vehicle.
In recent months, Israeli forces have gunned down large numbers of Palestinians across the occupied territories over the accusation that they sought to carry out attacks against Israelis.
International rights groups have long been criticizing the regime for its policy of shoot-to-kill, which they say has led to scores of deaths. Most of those killed by Israeli troops at the scene of attacks did not pose serious threats, according to the rights groups.
The occupied territories have been scene of increased tensions ever since Israeli forces imposed restrictions on the entry of Palestinian worshipers into the al-Aqsa Mosque compound in East Jerusalem al-Quds in August 2015.
Some 250 Palestinians have been killed by Israeli forces in the tensions since October 2015, of whom nearly 25 have lost their lives while allegedly carrying out vehicular attacks. Around 40 Israelis have also purportedly been killed during the same period.
Israel demolishes more homes
Meanwhile, the Israeli regime has demolished three Palestinian homes in the Bedouin village of Bir Haddaj in the occupied Negev region. The three houses were razed to the ground after Israeli forces stormed the village and forcefully evacuated the residents.
Earlier this month, Israel demolished 10 Palestinian homes in the village, making its residents homeless.
In a Friday report, Israel's Hebrew-language Haaretz newspaper said that a total of 780 Palestinian houses have been razed in Area C of the West Bank, which constitutes about 61 percent of the territory and is under full Israeli military control, since January, leaving 1,129 people homeless.
Over half a million Israelis live in more than 230 illegal settlements built since the 1967 Israeli occupation of the Palestinian territories of the West Bank and East Jerusalem al-Quds.
The presence and continued expansion of Israeli settlements in occupied Palestinian lands have created a major obstacle for the efforts to establish peace in the Middle East.