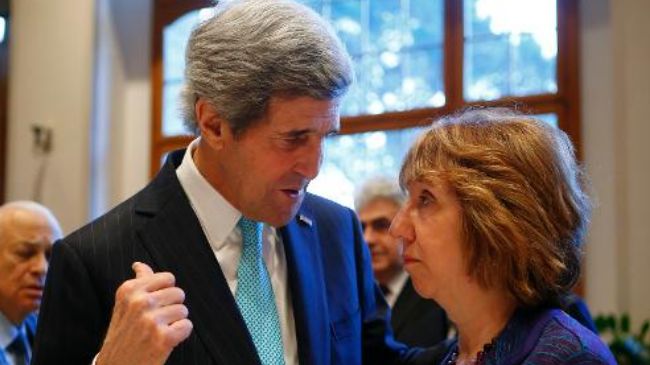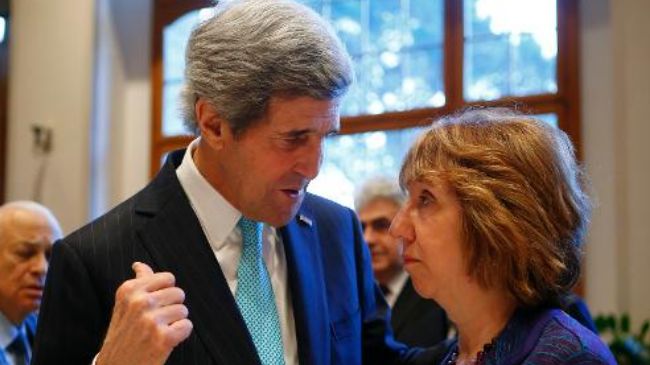 US Secretary of State John Kerry has once again called for regime change in Syria, insisting that President Bashar al-Assad should not be part of a transitional government.
"We see only one option, negotiating a transition government born by mutual consent," Kerry said in his opening statement during a conference about the Syria crisis on Wednesday.
"That means that Bashar Assad will not be part of that transition government," the top US diplomat said.
Kerry accused President Assad of leading "a brutal response to his own people," saying there is no way he "can regain legitimacy to govern."
The Syrian government and members of the opposition gathered in Montreux, Switzerland, for negotiations aimed at ending Syria's three-year unrest.
"One man and those who supported him can no longer hold an entire nation and the region hostage," Kerry said.
During his speech at the conference, Syrian Foreign Minister Walid al-Muallem rejected Kerry's assertion, saying only Syrians have the right to choose their president.
"No one, Mr. Kerry, no one can grant or withdraw the legitimacy of the president other than the Syrians themselves," he said. "This is their right and duty."
Russian Foreign Minister Sergei Lavrov also said that outsiders must not meddle in the Arab country's internal affairs.
"Attempts to dictate to countries of the Middle East and North Africa recipes of reforms from the outside, to set up experiments in social engineering, this only throws back the processes of political and economic modernization," Lavrov said.
"You do not need to go far to find the relevant examples," he added.
At the conference, UN Secretary-General Ban Ki-moon said the talks face "formidable" challenges.
"We know that it has been an extremely difficult path to reach this point. We have lost valuable time and many many lives. Let me not mince words, the challenges before you and before all of us are formidable. But your presence here raises hope," he said.
Ban Ki-moon said on Sunday that Iran had been invited to the conference but he withdrew the invitation. The United States, Saudi Arabia and the foreign-backed Syrian opposition are strongly against Iran's participation in the talks.
In an interview with Press TV on Tuesday, investigative journalist Gareth Porter said Washington's pressure on the UN to withdraw Iran's invitation to the conference shows a "lack of seriousness" on the part of the United States.
"It really reveals that the United States is not primarily concerned here with trying to maximize the effectiveness of international diplomacy and this is indicated certainly by the position that the United States has taken toward the participation of Iran in the international conference on Syria," Porter said.