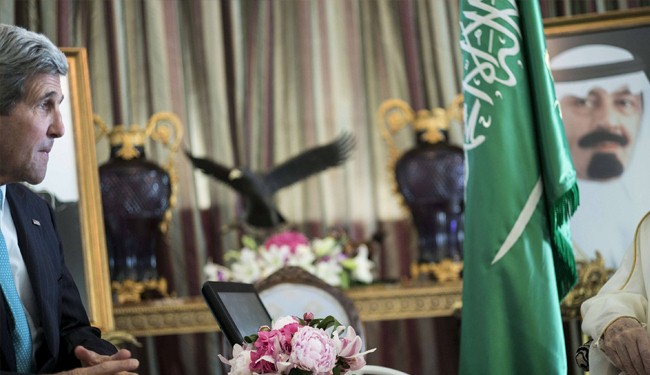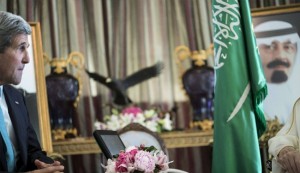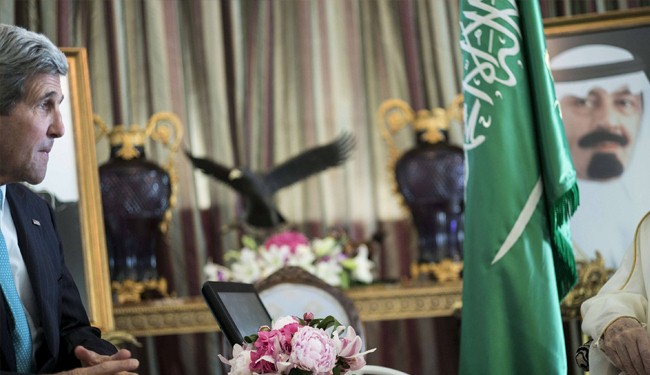 A US official says Saudi King Abdullah has told US Secretary of State John Kerry to use his influence to encourage Sunni Muslims to join Iraqi government and army against the radical insurgency launched by so-called Islamic State of Iraq and Levant (ISIL).
Iraq has been dealing with a massive radical insurgency in its northern cities after ISIL militants attacked Mosul and killed thousands of people.
The multi-national terrorist group which is one of the main forces fighting in the foreign-charged war against Syria has many Saudi members.
The US State Department official who spoke on condition of anonymity, said the Saudi monarch voiced concern to Kerry about the ISIL insurgents who have overrun much of northern Iraq and its border with Syria and thrust southward, approaching the Saudi frontier.
"It was clear that the two shared a view that all of Iraq's community should be participating on an urgent basis in the political process to allow it to move forward, and that each – both the Secretary and King Abdullah in their conversations with Iraqi leaders – would convey that message directly to them," the US State Department official told reporters after the talks.
Saudi Royal family which has already spent millions of dollars to held militant groups overthrow the government of Syrian President Bashar al-Assad, does not favor Iraqi Prime Minister Nouri al-Maliki either.
Until now Saudi Arabia had been unwilling to support the formation of a new government unless Maliki stepped aside and does not seek a third term.
But with radical militants now operating close to its border, Saudi Arabia has assured Kerry it will now press Sunni parties to join the new government, appearing more confident that this would undercut Maliki's chances of a third term.
On June 10, the ISIL terrorists took control of Mosul, the capital of Iraq's Nineveh Province, which was followed by the fall of Tikrit, located 140 kilometers (87 miles) northwest of Baghdad.
Over the past days, Iraqi armed forces have been engaged in fierce clashes with the terrorists, who have threatened to take their acts of violence to other Iraqi cities, including the capital, Baghdad.
However, their advance has been slowed down as Iraqi military forces and volunteer fighters have begun engaging them on several fronts, pushing the militants out of several areas they had earlier overrun.
Iraqi Prime Minister Nouri al-Maliki has blamed Saudi Arabia and foreign supporters for the security crisis and growing terrorism in his country, and denounced the Al Saud regime as a major supporter of global terrorism.