Middle East
Europe
Zionist Macron decries 'inexcusable' massacre of Algerians, makes no apologies
French President Emmanuel Macron has acknowledged that a massacre of Algerians by his country's police 60 years ago was "inexcusable," in yet another failure for Paris to issue a formal apology after decades of cover-ups.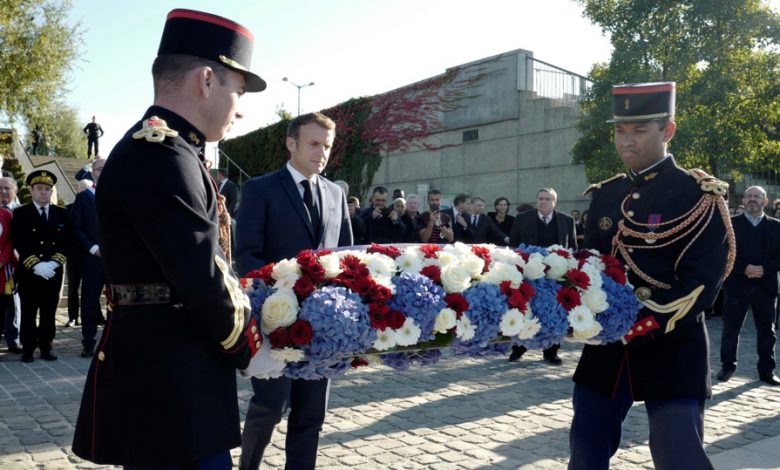 Macron on Saturday became the first French president to take part in a memorial ceremony for the victims of the bloodshed on October 17, 1961.
During the ceremony at a park on the Paris outskirts, Macron "recognized the facts that the crimes committed that night under the command of the notorious Paris police chief Maurice Papon are inexcusable for the Republic," according to a statement by his office.
"This tragedy was long hushed-up, denied or concealed," Macron said
While historian Emmanuel Blanchard believes that Macron's comments represented "progress" in Paris' treating of the colonial crime, many activists were hoping Macron would go further than his predecessor François Hollande.
The statement by Macron "is progress but not complete. We hoped for more," Mimouna Hadjam of the Africa93 anti-racism association was quoted by AFP as saying.
"Papon did not act alone. People were tortured, massacred in the heart of Paris and those high up knew," Hadjam said, calling for recognition of a "state crime."
And Domonique Sopo, the head of SOS Racism, said Macron was showing a tendency of taking "small steps" on such issues by reducing responsibility to Papon alone.
The massacre occurred during a rally that was called in the final year of France's increasingly violent attempt to retain Algeria as a north African colony.
France has so far refused to officially apologize to Algeria as a state for its colonial crimes.
Algerian President Abdelmadjidn Tebboune said there was "strong concern for treating issues of history and memory without … a sharp sense of responsibility," free from "the dominance of arrogant colonialist thought," according to his office.
The bloodshed revealed the horror of "massacres and crimes against humanity that will remain engraved in the collective memory," he added.
The gas-rich country won its independence from France in 1962 after a bloody military struggle.
Macron, the first president born in the post-colonial era, made the acknowledgment amid an ongoing diplomatic row between Paris and Algiers that was triggered by his controversial remarks earlier this month that Algeria had an "official history" which had been "totally re-written."