Europe
Zionist McCain to his Lord Obama: Send arms to Ukraine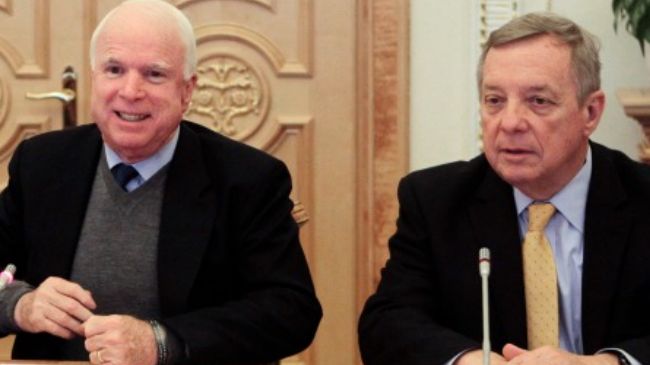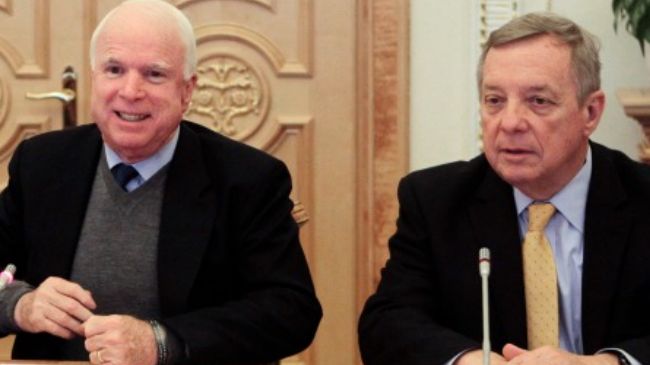 US senators John McCain (R-Arizona) and Dick Durbin (D-Illinois) have called on President Barack Obama to immediately send arms and other military equipment to Ukraine.
McCain, who lost the 2008 presidential election to Obama, said if he were the president, he would have already sent arms to Ukraine, adding one of the urgent requests of Ukraine's new government from Washington is to supply them with weapons.
"To make it happen, all the president has to do is order it tomorrow," McCain said. "He can have it done tomorrow.
McCain and Durbin are part of a delegation of US senators who have travelled to Ukraine as people in the autonomous Ukrainian region of Crimea are set to participate in a referendum that will determine whether Crimea will remain part of Ukraine or join Russia.
Tensions between Washington and Moscow have intensified during the past weeks over the crisis in Ukraine.
The US has stepped up the deployment of its military forces to Eastern Europe, including the dispatch of fighter jets and surveillance equipment to Poland and the Baltic states.
The USS Truxtun, a US Navy guided-missile destroyer, conducted joint exercises with Romanian and Bulgarian ships a few hundred kilometers from the Russian forces deployed in the Black Sea peninsula of Crimea.
On Saturday, the commander of the USS Truxtun said the warship will remain in the Black Sea to carry out more exercises with allied ships.
On Friday, the Russian state arms and technology group Rostec said that it downed a US spy drone over Crimea. However, the Pentagon denied the news, saying there was "zero truth" to it.
The US has repeatedly threatened Russia with sanctions if it recognizes the results of the referendum in Crimea. US Secretary of State John Kerry met with his Russian counterpart Sergey Lavrov in London on Friday.
Following the meeting, Lavrov said that Moscow would respect the will of the people in Crimea in the upcoming referendum.