Human Rights
Middle East
Palestine
Zionist military forces raid Ramallah in West Bank, open fire on young Palestinians
Zionist forces have raided the city of Ramallah, the seat of the Palestinian Authority (PA), in the occupied West Bank, the first such incursion since the PA cut security coordination with the regime.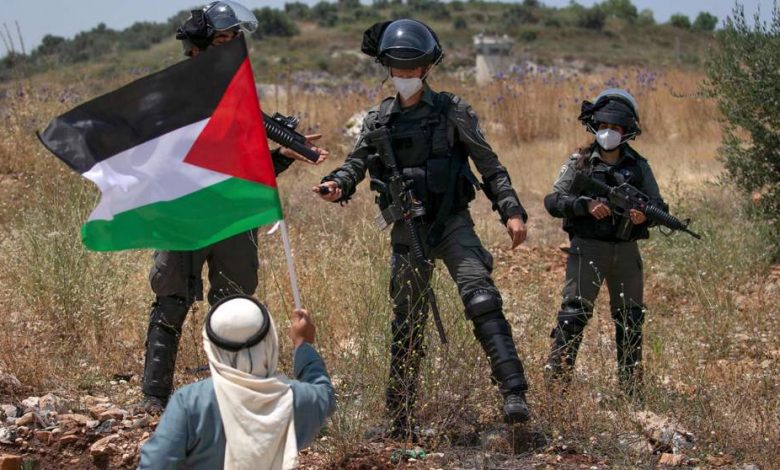 A large Israeli military force stormed Ramallah and an archeological site in the north of the occupied West Bank on Tuesday, Palestine's official Wafa news agency reported, citing sources and witnesses.
The Israeli troops raided a number of neighborhoods in the city while young Palestinians hurled stones at them and fired fire crackers at the military vehicles, the report quoted several witnesses as saying.
The Israeli soldiers also opened gun fire and shot teargas canisters at protesters, it further said, adding that there were no immediate reports of injuries.
The invading forces also raided the Amari refugee camp in Ramallah and arrested a 20-year-old youth after ransacking his family home.
"Israeli forces entered Ramallah before dawn," said Interior Ministry Spokesman Ghassan Nimr in an interview with AFP, noting that "three houses were searched" in the city but no arrests were made.
Ramallah is nominally under full Palestinian control, but the Israeli military frequently carries out raids there.
Palestinian President Mahmoud Abbas ended all agreements with Tel Aviv, including the bilateral security coordination, on May 19, after Israeli Prime Minister Benjamin Netanyahu announced that he would commence cabinet-level discussions for annexing more areas in the West Bank on July 1.
The plan is in accordance with US President Donald Trump's so-called peace scheme.
Trump officially unveiled his much-condemned Middle East scheme, the so-called deal of the century, in January at the White House with Netanyahu on his side, while Palestinian representatives were not invited.
The proposal, which has already been categorically rejected and condemned by Palestinians, largely gives in to Israel's demands while creating a Palestinian state with limited control over its own security and borders.
It enshrines the occupied Jerusalem al-Quds as Israel's "capital" and allows the regime to annex settlements in the West Bank and the Jordan Valley.
Separately on Tuesday, Israeli troops raided the archeological town of Sebastia in the north of the West Bank and ordered the site closed to visitors without giving any reason for the action, Wafa reported, citing the mayor of Sebastia.
The mayor also said that the town had repeatedly been raided by both Israeli settlers and soldiers in a clear attempt "to take control of the area."
Palestinian Prime Minister Mohammed Shtayyeh has already warned of a "hot summer" if the Israeli regime presses ahead with annexation.