Palestine
zionist Navy Shoots Palestinian Fisherman Off Gaza Coast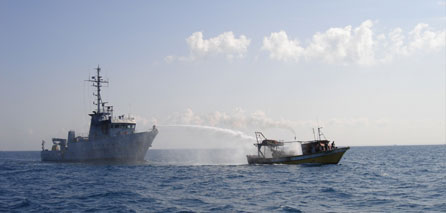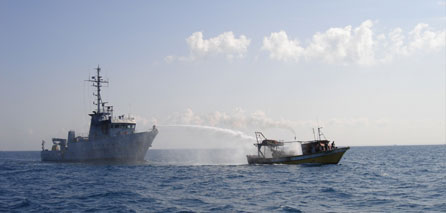 The Israeli navy shot and injured a Palestinian fisherman, on Monday, while he was working off the coasts of Gaza, according to media sources.
A correspondent from WAFA said that an Israeli naval boat opened fire at Palestinian fishing boats off the coasts of As-Sudaniya, to the north of Gaza, injuring of one of them.
Ashraf al-Qidra, Gaza's health ministry spokesman, said that 52-year-old Imad Shukri Salim was shot in the hand and the back and was taken to Kamal Adwan hospital for treatment.
There are some 4,000 fishermen in Gaza. According to a 2011 report by the International Committee of the Red Cross, 90 percent of them are impoverished — a 40 percent increase from 2008, due to Israeli-imposed limits on the industry.
Under the Oslo accords of the mid-nineties, Palestinians are supposed to be allowed to fish within 20 nautical miles off the Gaza shore, but the Israeli occupation has constantly violated the agreement.
As part of the ceasefire agreement of November 2012, Israeli occupation allowed Palestinians to fish within six nautical miles, but unilaterally decreased the allotted area to three miles.
Last May, Israeli occupation decided to allow the fishermen to fish within six nautical miles, but the Israeli navy continued to attack them, even within the three nautical miles.