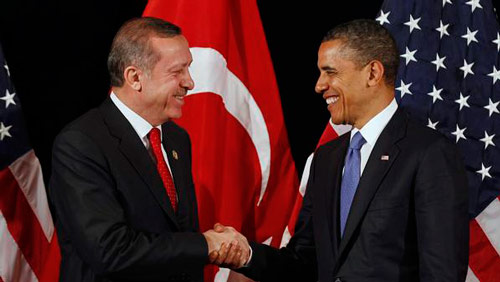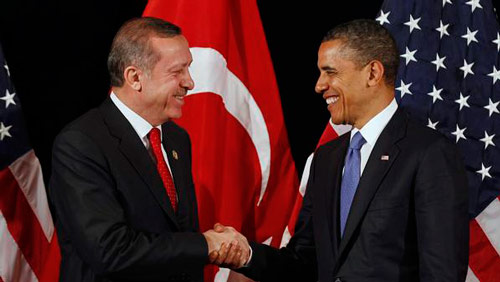 Zionist US President Barack Obama and his regional ally Turkey's PM Erdogan continued to pressure the Syrian government.
At a joint White House news conference, Obama and Erdogan restated their position, but Obama admitted: "There is no magic formula for dealing with an extraordinarily violent and difficult situation like Syria's."
The talks came a day before another key player, Russian President Vladimir Putin, was to meet UN Secretary-General Ban Ki-moon.
And even as Obama and Erdogan were meeting, "Israeli" officials told AFP that John Brennan, director of the US.Central Intelligence Agency, had arrived in the Zionist entity for talks on the Syrian crisis.
Obama has made strenuous efforts to court the Turkish leader but, there are signs of frustration in Ankara at Obama's approach toward the Syrian rebels.
After meeting Erdogan, Obama gave no sign his position has changed.
"We both agree that al-Assad needs to go. He needs to transfer power to a transitional body," he said.
"That is the only way we're going to resolve this crisis. And we're going to keep working for a Syria that is free from Assad's tyranny," he added, vowing to support Turkey in its struggle to cope with a flood of Syrian refugees.
In what was perhaps a sign that Turkey is not yet satisfied with Obama's stance, Erdogan said: "We will continue to discuss this issue in greater detail in our meeting this evening."
Before the meeting, speaking on condition of anonymity, a Turkish official told AFP that Erdogan would push for direct US military aid for the rebels.
But Erdogan claimed: "Let me first of all say that chemical weapons and missiles, rockets, all that, have been fired.
"All that information is shared between the relevant bodies within our administrations and it's not just Turkey and the United States," he said.