Palestine
Human Rights
Middle East
Zionist occupation regime allows extremist settlers to seize vast swathes of Palestinian-owned lands in occupied West Bank
Israeli authorities have allowed dozens of extremist Jewish settlers to seize thousands of acres of Palestinian-owned agricultural lands around six illegal outposts in the West Bank, as the Tel Aviv regime continues with its land expropriation policies irrespective of international outcry and UN Security Council resolutions.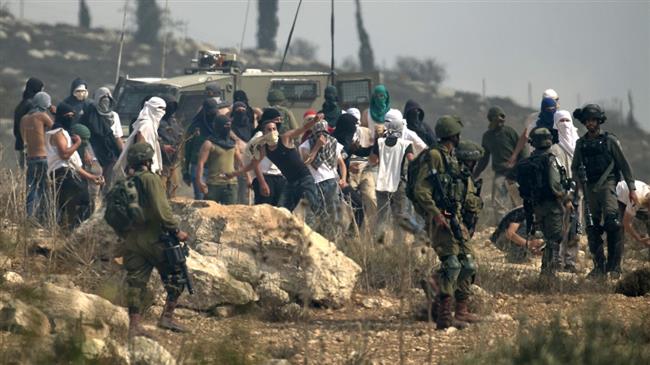 According to a report published by Palestine's official WAFA news agency on Thursday, the so-called Civil Administration – the Israeli body that handles agricultural and building permits, roads, water and electricity issues in the West Bank – has allocated 8,719 dunams (over 2,154 acres) of land to be taken over by the settlers.
The report, citing Peace Now – an Israeli anti-settlement group that monitors settlement activity in the occupied West Bank, noted that the Israeli Ministry of Agriculture and Rural Development has given, over the past few years, approximately 2.6 million Israeli shekels ($800,000) to the Hashomer Yosh organization to purportedly cultivate or graze the land at the six agricultural settlement outposts in the occupied West Bank.
Peace Now went on to highlight that the ministry has actually funded two other associations that work in the illegal agricultural outposts.
The two associations of Kedma and Beit Yatir Preparatory are said to be active in tens of thousands of dunams of land.
"The Ministry of Agriculture takes millions of shekels of public assets, and gives them to associations which are intrinsically linked to illegal activities," Peace Now said.
It stressed the need for Israeli authorities to change their policies "immediately and stop supporting outposts and illegal activities."
More than 600,000 Israelis live in over 230 settlements built since the 1967 occupation of the West Bank and East Jerusalem al-Quds.
Israel has stepped up its illegal settlement construction activities in defiance of United Nations Security Council Resolution 2334, which has pronounced settlements in the West Bank and East Jerusalem al-Quds "a flagrant violation under international law."
All Israeli settlements are illegal under international law. The UN Security Council has condemned Israel's settlement activities in the occupied territories in several resolutions.
Palestinians want the West Bank as part of a future independent state with East Jerusalem al-Quds as its capital.