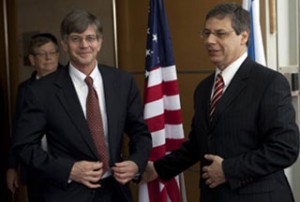 Despite international condemnations, Israel's deputy foreign minister defends a new decision to construct 1,600 new settlements in East Jerusalem (al-Quds).
Danny Ayalon, in Washington for a series of meetings with congressmen and officials at the State Department, said on Thursday that Israel would not make any more concessions for peace with the Palestinians.
According to Ayalon, the US's condemnation on the matter was due to the timing of the announcement and not the content. The approval was in the midst of a visit by US Vice President Joe Biden to the region.
Chief Palestinian Authority negotiator Saeb Erekat has said that Palestinians would only begin indirect peace talks after the Israeli government has annulled the decision on settlements.
UN Secretary General Ban Ki-moon has also condemned the move, saying "settlements are illegal under international law."
Spain's Foreign Minister, Miguel Angel Moratinos, whose country holds the rotating EU presidency, said on Thursday that the European Union must be firm in its opposition to the move.
Jordan's King Abdullah II said continued provocative Israeli measures are undermining the peacemaking chances and threatens the start of a new cycle of violence in the region.
Israeli media say another 50,000 settlement units are in various stages of planning and approval.