Palestine
Zionist police question slaughterer Netanyahu, wife in telecommunications graft case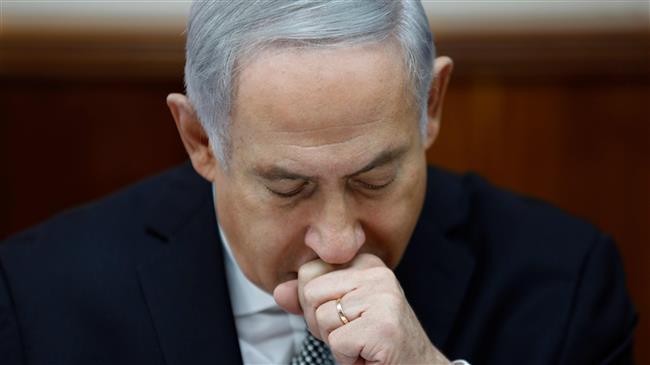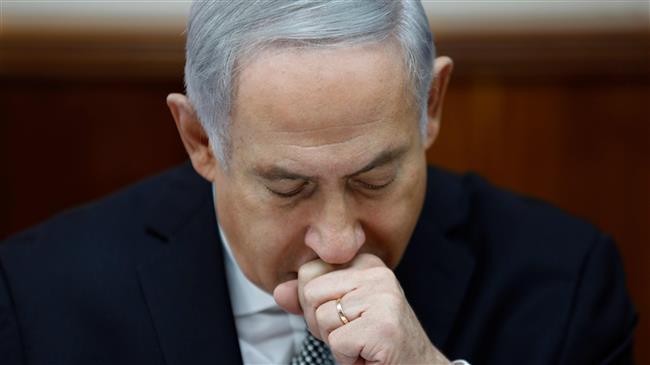 Zionist police investigators have questioned Prime Minister Benjamin Netanyahu and his wife Sara for the first time as part of an investigation into a corruption case involving Israeli telecommunications company Bezeq.
Police investigators entered Netanyahu's residence in occupied Jerusalem al-Quds on Friday morning, while his spouse was interrogated in the city of Lod southeast of Tel Aviv.
It's the first time that Netanyahu, whose four-term prime minister's political survival is greatly at risk over corruption and bribery probes, is being questioned over the affair, known as Case 4000.
Israeli police assert that Bezeq owner Shaul Elovitch had instructed the Walla news website, which is fully owned by the telecom company, to provide favorable coverage of Netanyahu and his wife in return for favors from communications regulators. The company has denied wrongdoing.
A confidante of Israeli PM Benjamin Netanyahu has reportedly reached a deal to incriminate him in a corruption case in exchange for a lighter prison term.
Elovitch, his wife and two senior Netanyahu associates were recently arrested as part of the ongoing probe.
Meanwhile, protesters gathered outside Netanyahu's residence, demanding his resignation.
"We want to see Netanyahu go to trial and, if needed, go to jail or go home. Let our people go free from all the corruption surrounding the administration and the head of it," Shimrit Orr, a 72-year-old writer from Tel Aviv, said.
Some drivers touted their horns in support as they drove by.
"A prime minister under investigation cannot, and may not, take crucial decisions," Shuki Cohen, a 63-year-old economist from Moshav Arugot, said.
Israeli police investigators have also been grilling Netanyahu for corruption over his involvement in cases 1000 and 2000.
Case 1000 revolves around alleged illicit gifts given to Netanyahu and his family by different businessmen, most notably the Israeli-born Hollywood producer Arnon Milchan.
The Israeli prime minister and his wife, Sara, have denied wrongdoing in the case, claiming that the value of the items was significantly lower than reported, and that they were only "trifles" exchanged between close friends.
Case 2000 focuses on an alleged clandestine deal made between Netanyahu and Yedioth Ahronoth publisher and owner Arnon "Noni" Mozes, in which the 68-year-old chairman of the Likud party promised Mozes he would support a bill to reduce the circulation of Yedioth's main commercial rival, the Hebrew-language freebie Israel Hayom, in exchange for favorable coverage of himself in Yedioth.
Thousands of Israeli demonstrators have rallied in Tel Aviv to demand the resignation of Prime Minister Benjamin Netanyahu.
Reports emerged recently that the president of the World Jewish Congress and Netanyahu's long-time ally, Ronald Lauder, had given the premier and his son gifts, including expensive suits. The accounts prompted Israeli police to interrogate the prime minister.
Netanyahu is currently under probe over suspicions that he accepted 1 million euros (about $1.1 million) from accused French fraudster Arnaud Mimran for campaign funds during the 2009 elections.
There are also calls for Netanyahu to be investigated for his role in a billion-dollar deal to purchase three submarines from German shipbuilder ThyssenKrupp Marine Systems GmbH.
Netanyahu's personal lawyer and one of his closest confidants, David Shimron, reportedly represented the German company behind the submarine contract.
The Israeli prime minister, in an apparently unrelated case, is also subjected to accusations that he and his spouse misappropriated public funds to pay for private expenses, ranging from laundry to ice cream.