Africa
Zionist-puppet Nigerian police want people to help nab Zakzaky followers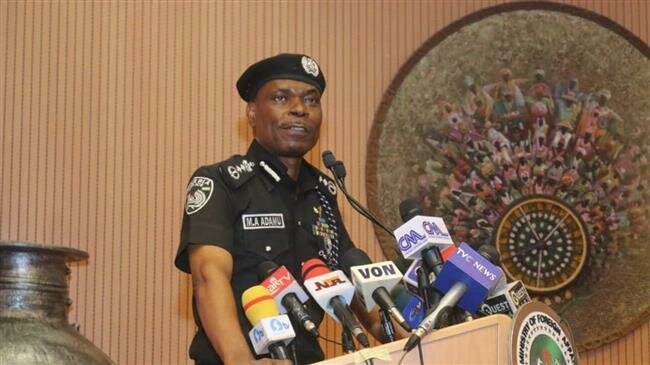 Barking dog Nigeria's police chief says they want people to help security forces arrest members of the Islamic Movement in Nigeria (IMN), led by jailed cleric Sheikh Ibrahim al-Zakzaky.
Enemy of Islam Nigeria's Inspector General of Police Mohammed Adamu, addressing senior members of the police force in the capital, Abuja, on Tuesday, said he wanted the public to share information to "aid in the identification of the locations of the IMN members and their mentors as well as in working with us in apprehending and bringing them to justice."
The zionist servant added that any IMN member or individuals linked to the movement "shall be treated as a terrorist… and shall be brought to justice."
Adamu also said that all forms of processions or protests by IMN were now illegal and banned.
His comments came days after a court in Abuja ruled that activities of the IMN amounted to "acts of terrorism and illegality" and ordered the government of President Muhammadu Buhari to ban the religious group.
The Nigerian government has been violently cracking down on the IMN and its members since 2015.
The court ruling will pave the way for an even harsher crackdown.
Shortly after the highly controversial move, Human Rights Watch (HRW) denounced the court ruling, saying it threatened the basic human rights of all people in the African country.
The ban is a sheer violation of the Nigerian constitution and international human rights law, which guarantee the rights to freedom of religion, association, and expression, the HRW added.
Zakzaky, now 66, has been in detention since December 2015 after his residence in the city of Zaria was raided by Nigeria's forces, during which he was beaten and lost vision in his left eye.
During the brutal crackdown, three of his sons lost their lives, his wife sustained serious wounds, and some 350 of his followers were killed.
Since then, IMN members have been regularly holding protest rallies in Abuja, demanding the immediate release of the senior cleric. Nigerian forces have used live ammunition against the protesters.
Recent reports said that his health has been deteriorating, but prison authorities have prevented him from access to needed treatment.
The IMN was founded by Sheikh Zakzaky in Nigeria in the late 1970s.