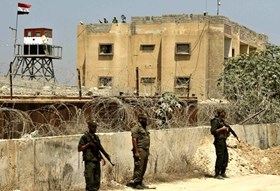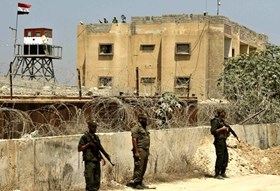 Zionist-puppet Egyptian president Abdul-Fattah al-Sisi on Monday said that his country would take further measures to evacuate the border area with the Gaza Strip as well as compensate residents in the area.
In a televised speech, Sisi said that he would compensate the affected residents in Sinai with nearly $150 million, warning against sowing the seeds of sedition between the residents of the Sinai Peninsula and the rest of Egypt.
Sisi hailed the residents of Sinai for acting in what he described in a "patriotic" way following the deadly attack on army troops in Sinai on October 24.
The attack, which took place in the city of Al-Arish, left 31 Egyptian troops dead and 30 others wounded, triggering a massive military campaign in Sinai, including the evacuation of scores of families living on the borderline between Gaza and Sinai.
In another context, the London-based Palestinian affairs center warned of the serious repercussions of the Egyptian media incitement campaign against Palestinians, in reference to the recent Egyptian claims accusing Palestinians of being behind the bombing attack in Sinai on October 24.
The center said that Egypt's media systematic incitement has been notably escalated recently aiming to arouse hostility against Palestinians inside and outside Egypt.
This campaign threatens the lives of Palestinians, especially those who live in Gaza, the center added.
The center pointed out that article 20 of the International Covenant on Civil and Political Rights, signed by Egypt, says that any advocacy of national, racial or religious hatred that constitutes incitement to discrimination, hostility or violence shall be prohibited by law.
For his part, spokesman for Hamas Sami Abu Zuhri denied Egyptian claims that there are Palestinian detainees affiliated with the Movement in Egyptian prisons, describing them as media lies and fabrications.
Abu Zuhri responded to Egyptian news reports claiming the arrest of a number of Hamas members in Egypt for being involved in the Sinai bombing attack.
These allegations came as part of the anti-Palestinians incitement campaign waged by Egyptian media, he added.