Syria
'Zionist regime assists terrorist outfits in Syria'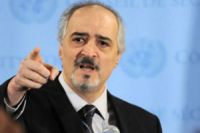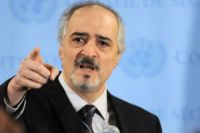 Syria's envoy to UN, Bashar al-Jafari, has pointed out that the Zionist regime of Israel assists terrorist outfits in Syria, including the Al-Qaeda affiliated groups.
According to IRIB World Service, the Syrian envoy emphasized that this measure of the Zionist regime has endangered the lives of the forces, who observe the maintenance of ceasefire in Syria.
Based on another report, the Zionists, via holding maneuvers in occupied Golan Heights, in addition to supporting terrorists, cover up the heinous crimes committed by these operatives.
To this end, the Zionists have stationed military equipment in Golan Heights, and hold military maneuvers which continue a number of days.