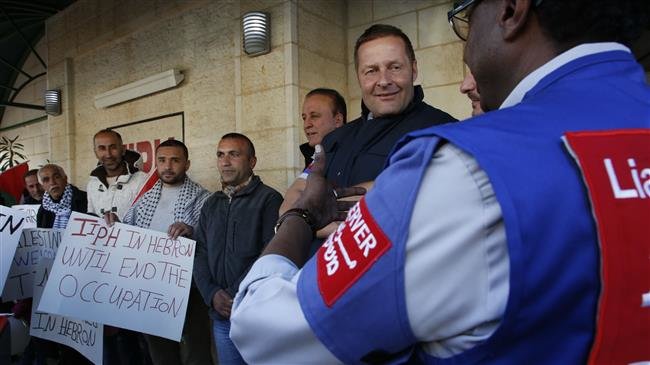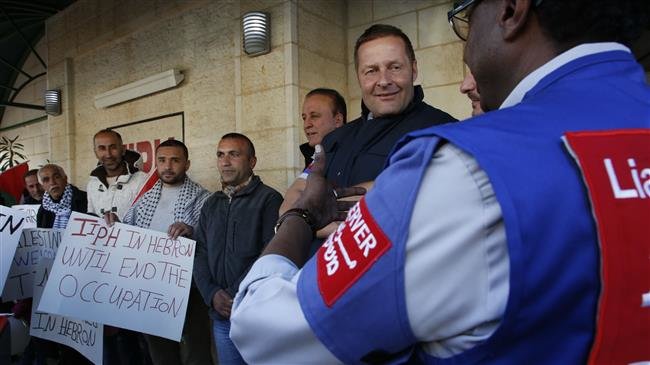 Zionist regime has refused to allow the UN Security Council (UNSC) to visit the occupied West Bank for a close-up look at the situation on the ground after Tel Aviv decided to expel an international observer mission tasked with safeguarding Palestinians in the flashpoint city of al-Khalil (Hebron).
Kuwait and Indonesia put forward the proposal for the visit to the West Bank during a meeting last week after the US blocked a UNSC draft resolution condemning Israel for expelling the Temporary International Presence in Hebron (TIPH).
During a closed-door meeting on Wednesday, Security Council President Anatolio Ndong MbaMba briefed members on talks held with Israel and the Palestinians on the trip.
Palestinian Ambassador to the UN Riyad Mansour immediately responded, saying a council visit would be viewed "in the most positive way."
However, citing Ndong Mba, Kuwait's UN Ambassador Mansour al-Otaibi said "Israel categorically refused the council visit."
The Kuwaiti envoy expressed regret over the Israeli opposition to the visit which "has been raised many times by the council."
"We want to continue our consultation," he said. "Hopefully we reach a consensus, because we said this issue has been on the council agenda for decades."
"We want an official trip — this is what we asked for, not to go illegally or not to be invited as tourists," al-Otaibi said.
Equatorial Guinea's deputy ambassador Job Obiang Esono Mbengono said, "We're still working on it."
The TIPH was deployed in al-Khalil following an agreement reached between Israel and the Palestinian Authority (PA) in 1994, when an Israeli settler killed 29 Palestinian worshipers at the Ibrahimi Mosque, which is revered by Jews, Christians and Muslims.
The group did not start its work in the city until 1998, after the Israeli military refused to leave al-Khalil following the establishment of an illegal Israeli settlement at the heart of the city.
TIPH's mandate is renewed every six months. Its latest mandate ended on January 31.
Palestinians have denounced Netanyahu's decision to expel the monitoring group as "unacceptable."
More than half a million Israelis live in over 120 settlements built since Israel's occupation of the Palestinian territories of the West Bank in 1967. This is while much of the international community considers the settler units illegal and subject to the Geneva Conventions, which forbid construction on occupied land.