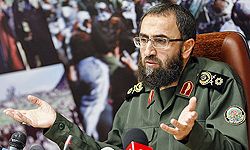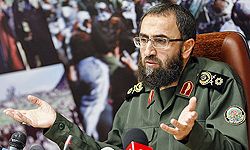 The Zionist regime and its main supporter, the US, have been startled and pinned down by the international front formed against the Israeli crimes against the Palestinians and their advocates, a senior Iranian military official said.
"The strategy for the integration of the wills for showing global resistance against the Zionist regime has frightened the US and Israel," Head of the Foundation for the Remembrance and Promotion of the Holy Defense's Values Brigadier General Seyed Mohammad Baqerzadeh said on Wednesday.
Baqerzadeh further cautioned that the United States' continued requests for delaying the removal of the siege of Gaza until August followed by Israel's irrational precondition for a limited opening of the Gaza passages are signs of a new plot, and urged the world community to keep vigilant against such moves.
"They intend to find a way out for the Zionist regime by killing the time," he added.
Baqerzadeh also stressed international aid convoys dispatched to the Gaza Strip to help the oppressed Palestinian people play an effective role in lowering the spirit of the Israelis and in destroying the fake regime of the Zionists.
Most of the world countries have announced their readiness to send humanitarian convoys to Gaza after the last week Israeli raid against the Gaza Freedom Flotilla, which led to the killing of 20 human rights activists.
Iran's parliament on Tuesday announced its preparedness to dispatch a delegation of legislators along with a convoy of humanitarian aids to Gaza to help the oppressed Palestinian people who have been suffering an Israeli-imposed siege for more than three years.
The siege of Gaza started in June 2007 when Israel imposed a blockade on the Gaza Strip. This was supported by the governments of Egypt and the US.
The blockade consists of a land blockade along Gaza's borders with Egypt and Israel and a sea blockade. It immediately followed the 2006-2007 economic sanctions against the Palestinian National Authority following the election of Hamas to the Palestinian government.
The blockade has attracted criticism from many Human Rights organizations. September 2009 UN fact-finding mission found that the blockade of Gaza "amounted to collective punishment", was likely a war crime and a crime against humanity and recommended that the matter be referred to the International Criminal Court (ICC).