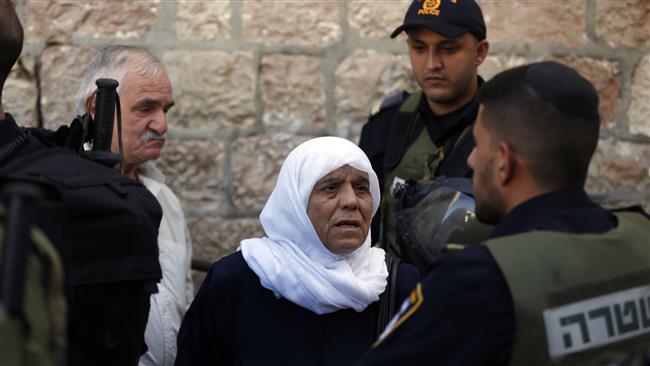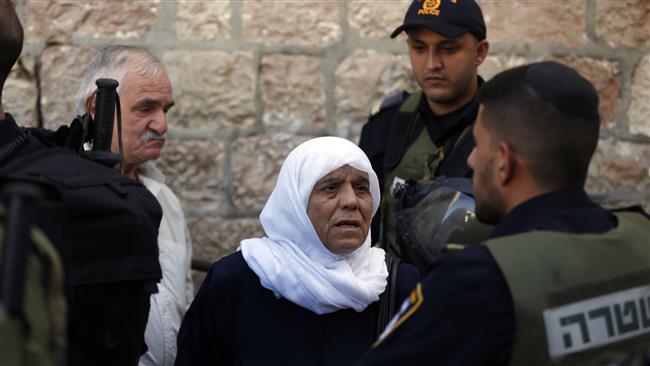 Palestinian Muslim worshippers, who were prevented by Israeli forces from entering the al-Aqsa Mosque compound, stand at one of the entrances to the holy site in the occupied al-Quds (Jerusalem)'s Old City, September 28, 2015. (Photo by AFP)
Israeli military forces have arrested three Palestinians, including at least two children, in East al-Quds (Jerusalem) for allegedly throwing stones at passing vehicles.
Israeli police spokesperson Micky Rosenfeld said that the three were detained on the outskirts of al-Quds' Old City on Tuesday.
One of the detainees was identified as an 11-year-old, who allegedly threw stones at a taxi as it was passing near his home in the East al-Quds neighborhood of al-Tur.
Another was a 15-year-old, who purportedly hurled stones at an Israeli bus on Sultan Suleiman Street adjacent to the Old City.
There was no information on the third detainee.
The report comes as the Tel Aviv regime has moved to toughen the measures against Palestinian stone-throwers in al-Quds (Jerusalem), broadening rules to allow Israeli military forces to target Palestinians with live bullets.