Palestine
Zionist regime forces clash with anti-settlement Palestinian protesters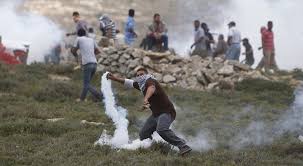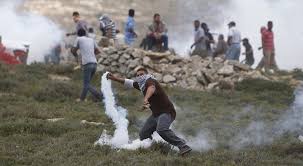 Israeli forces have clashed with Palestinian demonstrators protesting against Tel Aviv plans to expand an Israeli settlement in the occupied West Bank.
Scores of Palestinians marched toward the Efrat settlement in Bethlehem on Friday to express their anger over Tel Aviv's expansion project which would see more land taken away from the Palestinians in the village of al Masaara.
Israeli troops fired tear gas to disperse the demonstrators, witnesses said. There were no immediate reports of casualties.
Israeli forces also fired tear gas at Palestinian demonstrators protesting against the confiscation of their land by Israel in the West Bank village of Deir Jarir, east of Ramallah.
The Israeli regime intends to expand illegal settlements in the Occupied Territories despite strong opposition from Palestinians and the international community.
Tel Aviv regime has also taken steps to legalize four West Bank settlement outposts which were previously ordered to be demolished for having been illegally built.
The four outposts, which will be given legal approval, include Givat Assaf, east of the Palestinian city of Ramallah; Haroeh, north of Ramallah; Maale Rehavam, east of Bethlehem and Mitzpe Lachish, south of al-Khalil (Hebron).
Under international law, all of the settlements in the West Bank and East al-Quds (Jerusalem) are illegal.