Palestine
Zionist regime forces destroy Palestinian village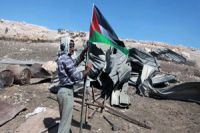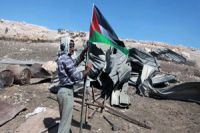 According to Press TV, Zionist regime's forces have attacked a Palestinian village north of the Jordan Valley for the fourth time since September, leaving some 100 residents without shelter.
Zionist regime bulldozers backed by military jeeps entered the village of Makhool in the early hours of Thursday morning and evacuated the residents before destroying the village.
The Zionist regime soldiers further seized two tents and confiscated all materials that had been provided to them by European Humanitarian aid agencies.
A village resident said: "The Zionist regime's army attacked us while we were sleeping and forced us to leave our tents before they destroyed everything. When they finished, they collected all the plastic and burned them before confiscating the iron structures."
He added: "Every time we build anything, a tent or barracks, they demolish them. Even the presence of diplomats makes no difference."
Following the demolition, foreign diplomats visited the area and donated tents and humanitarian aid, but the Zionist regime's army forcibly removed them from the area. French diplomat Marion Fesneau-Castaing was dragged out of an aid truck by a Zionist regime soldier, who later confiscated the vehicle.