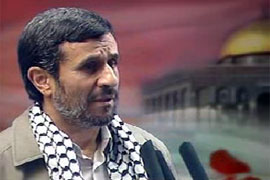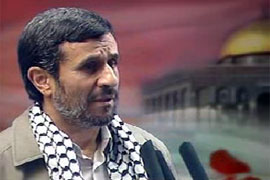 President Mahmoud Ahmadinejad says the International Quds Day against the Zionist regime's hostilities in the Middle East has paved the way for Tel Aviv's collapse.
Addressing a large protest rally in the Iranian capital Tehran, President Ahmadinejad said that "the Zionists are groups of hypocrite racists who have been operating under the pretext of following Jewish religion principles."
He further added that Israel was fabricated by the West to promote their colonialist scheme through materialistic agenda in the new world.
The Iranian chief executive blasted the recent direct talks between the regime and Palestinian Authority officials on the Palestinian issue and said, "Only Palestinians could decide on their own lands not foreign powers."
The Iranian president accused the Middle East moderators who have been engaged in direct talks with Israeli officials of being accomplice to the Israeli atrocities against Palestinians.
He further pointed out that Zionist regime has been on decline over the popular resistance and global awakening against its aggressions and is on the brink of collapse despite the US financial and military backup to save it.
He also called on Western powers to abandon their support of "the Zionists" and renounce their agenda.
President Ahmadinejad said on Friday that the Zionist regime is the symbol of racism.
The President underlined that "all are in danger," reiterating that the Zionist regime sacrifices the world nations' dignity and culture for its survival and victory.
President Ahmadinejad attended the World Qods Day rallies in Tehran hours ago.