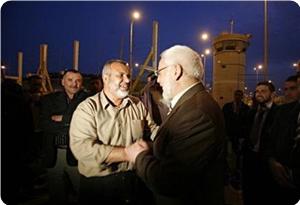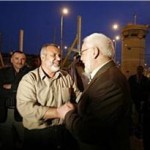 The Israeli occupation authorities on Monday released six Palestinian legislative council members who were abducted from their homes and offices nearly 42 months ago. The abduction was aimed at forcing Hamas to release an Israeli prisoner of war and also to rob Hamas of its election victory.
The freed hostages include Ahmed Eton and Wael Husseini, both from al-Quds (Jerusalem), and Khalil Rabbaei, Samir al Qadi, and Maher Badr, from al-Khalil (Hebron) and Mahmoud al Khatib from Bethlehem.
The six MPs are all affiliated with the pro-Hamas Change and Reform Bloc which won the 2006 legislative elections at the expense of the secular Fatah organization.
On Sunday, the Israeli occupation authorities released Hatem Qafisha, another Islamic MP who had been languishing in Israeli detention camps for several years.
With the release of the seven MPs, fifteen pro-Hamas legislative council members remain in Zionist custody. The longest-serving Islamic captive MP is Nayef Rajoub who has been sentenced to 48 months in jail.
The abduction of the MPs from their homes and offices is considered a crime pursuant international law.
No concrete charges were ever leveled against the abductees who were accused of "affiliation with a militant organization" and "taking part in an election under the rubric of a militant organization."
The 2006 elections had actually been okayed by Israel and the United States which had thought that Hamas wouldn't win the elections.
Israel had hoped the abduction of more than 45 pro-Hamas MPs, in utter violation of international law, would force the Islamic liberation movement (Hamas) to release from its custody an Israeli occupation soldier taken prisoner during a military operation in the middle of 2006.
Hamas refused to budge to the Israeli bullying, insisting that Israel must release a thousand Palestinian prisoners from its jails and dungeons in exchange for the Israeli prisoner.
Israeli officials quoted by the Israeli newspaper Ha'aretz on Monday stressed that there was no connection between the release of the Islamic parliamentarians and the Shalit affair.
The Palestinian Authority (PA) has prevented the reconvening of the Legislative Council, apparently fearing the council would take decisions or make moves the American-backed regime in Ramallah would view as harmful and inexpedient.