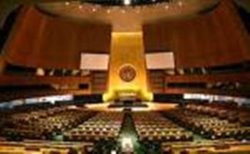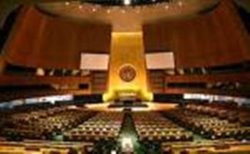 A member of the Iranian Mission to the United Nations Wednesday referred to the zionist regime as the source of all crises in the Middle East.
Addressing a UN meeting on the Middle East crisis, Mohammad-Ali Mottaqinejad criticized the decades of the zionist regime's crimes against Palestinians.
Tehran believed that the only possible solution to the Middle East crisis was to recognize the legitimate rights of the Palestinian nation including the determination of their destiny and future through elections, said the Iranian diplomat.
He said that Iran hailed the relentless strives of Palestinians to defend their right of supporting the territorial integrity of the occupied lands of Palestine.
Criticizing the blockade of Gaza by zionist troops, the envoy said that the savage act was against all international laws and norms and a crime against humanity.
Mottaqinejad added that the Gaza blockade was a serious threat against the regional peace and stability.
Referring to the nuclear arsenal of the zionist regime, the Iranian diplomat urged the United Nations to condemn the possessing of nuclear weapons by israel and force it to stop its nuclear activities through the immediate signing of the nuclear Non-Proliferation Treaty (NPT).
Real peace and stability would never be back to the Middle East region as long as the threat of the zionist regime's huge nuclear arsenal existed, warned Mottaqinejad.