Palestine
Zionist regime's forces clash with Palestinians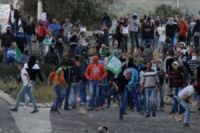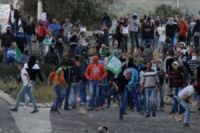 Palestinian demonstrators have clashed with Zionist regime's forces during a protest in the Galilee region, after Israeli troops shot and martyred a young Palestinian man.
According to Press TV, thousands of demonstrators staged a protest in the village of Kafr Kanna on Saturday afternoon to condemn the assassination of 22-year-old Khair al-Din Hamdan by Zionist forces earlier in the day.
They carried posters bearing Hamdan's picture and waved Palestinian flags while shouting anti-Israeli slogans.
Rauf Hamdan, the father of Khair al-Din, told the crowd "My son was martyred in cold blood because he is an Arab. This disaster is not related only to Kafr Kanna, but touches the entire Arab sector. This is a racist act. We will not forgive the police. We will take the appropriate steps against the police."
Some protesters hurled stones at police officers and set fire to tires and Zionist regime's flags. Three were arrested.
Zionist forces claimed that the young Palestinian was shot during an arrest raid. They claimed they first fired into the air to warn the young man and shot him in the chest later when they felt threatened.
However, footage which surfaced after the incident shows a Zionist serviceman step out of his car and directly shoot at Hamdan who is seen retreating. The Palestinian succumbed to his injuries in the hospital.