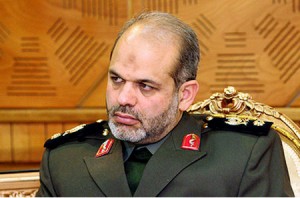 Defense Minister Brigadier General Ahmad vahidi held separate meetings with Secretary General of the Palestinian Islamic Jihad Movement Ramadan Abdullah Shallah and Secretary General of the Popular Front for the Liberation of Palestine Ahmad Jebril in Damascus on Thursday.
In the meetings, General Vahidi said Hamas and Hezbollah have broken the glass of life of the Zionist regime.
The Iranian Defense Minister stressed the necessity for all-out support of all groups for the Resistance against threats of the Zionist regime.
Reviewing developments in the recent decades showed that the Palestinians' resistance not only has not been weakened but also it has reached to its climax by wisdom, might and courage of the people and their leaders, he sated.
General Vahidi stressed that the Islamic Republic of Iran supports the Palestinian and Lebanese resistance and would stand with the Palestinian people till restoration of all their rights and freedom of the holy Qods.
The Palestinian figures, for their parts, said they have gained valuable experiences in the 33-day war in Lebanon and 22-day war in Gaza by which they could strike heavy blow and inflict disgraceful defeats on the Zionist regime.