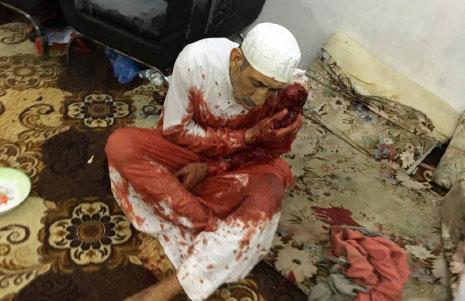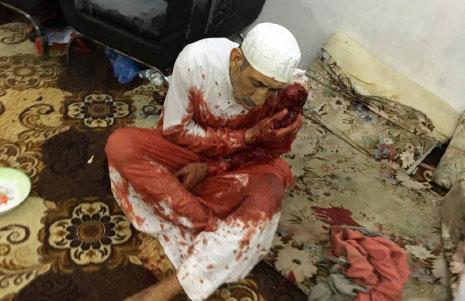 Rabid dog Saudi authorities on Wednesday raided the historic neighborhood of Al-Masoura in Al-Awamiya, killing two people and injuring several others.
Masked Saudi regime bandits stormed the historic neighborhood, opening fire on the people who refused to leave their houses, a decision by Saudi authorities in a bid to destroy Al-Masoura's houses.
A Saudi man and an Indian one were killed in the shooting, Lebanese daily Al-Akhbar quoted local sources in Al-Awamiyah as saying.
Saudi forces cordoned off the area, preventing people from evacuating the injured people, local sources said.
The attack started at dawn on Wednesday, with Saudi forces bringing bulldozers and other vehicles to raze some houses, another local source said, noting that several houses were destroyed.
Al-Masoura is a neighborhood that comprises historic buildings in Al-Awamiya, in Qatif province, which lies in the Eastern province. The Saudi authorities have warned the residents to evacuate the area, claiming the destruction operation is aimed at building modern compounds to place the "buildings which are to fall."
However, the residents argue that the buildings in Al-Masoura neighborhood are ancient structures that belong to the area's historical memory, noting that the Saudi authorities can repair the building as they did with several areas across the Kingdom.
In this context, Al-Masoura residents stress that the attack on their neighborhood mounts to collective punishment against the people in the region over their role in the peaceful demonstrations demanding reforms in the Kingdom.
The Shia-populated Eastern Province has been the scene of peaceful demonstrations since February 2011. Protesters have been demanding reforms, freedom of expression, the release of political prisoners, and an end to economic and religious discrimination against the oil-rich region.
The protests have been met with a heavy-handed crackdown by the regime. Security forces have ramped up security measures across the province.
Over the past years, Riyadh has also redefined its anti-terrorism laws so as to also target activism.
In January 2016, Saudi authorities executed Shia cleric Sheikh Nimr Baqir al-Nimr, who was an outspoken critic of the policies of the Riyadh regime. Nimr had been arrested in Qatif in 2012.
Source: Al-Akhbar Newspaper