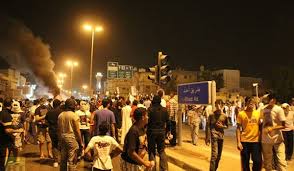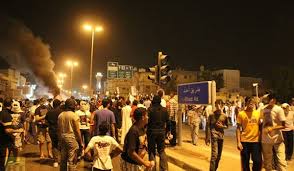 Zionist-puppet dictator Saudi kingdom continues its brutal agggression against Yemen, Saudi forces had intensified crackdown against the dissent raiding the houses of activists and relatives of those martyred in the anti-Riyadh uprising in the Qatif region of the kingdom's Eastern Province.
On Sunday, the brutal regime forces stormed dwellings belonging to campaigners and families of those martyred in the uprising against the Saudi government in the town of Awamiyah.
There had also been reports of gunfire in the town during the raid.
Tear gas was fired and several people were arrested by regime forces while roads leading to the town were blocked, according to witnesses.
A Saudi policeman was killed and three were wounded during the raid which devolved into a gun battle, Saudi state news agency SPA claimed.
There had been numerous demonstrations in dictator Saudi Arabia's oil-rich Eastern Province since 2011, with the protesters calling for political reform and an end to widespread discrimination. Several people had been martyred and many others injured or arrested.
The al-Saud government had come under fire from international human rights organizations for failing to address the rights situation in the monarchy.
They said Riyadh had persistently implemented repressive policies that stifle freedom of expression, association, and assembly.
Saudi security forces killed four civilians in a clash in the Awamiyah region in December, and it had been the focal point of unrest among Saudi since protests in early 2011 calling for an end to discrimination against the minority sect and for democratic reforms in the Al Saud monarchy.
More than 20 people had been martyred in the unrest since then, most of them local people shot in incidents that Saudi police had described as exchanges of fire.
Saudi rights activists said some of those martyred were shot dead while peacefully protesting.