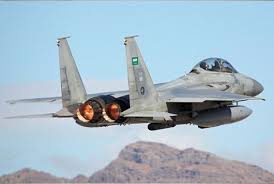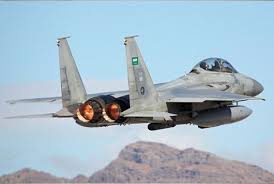 Shortly after a humanitarian truce went into effect in Yemen, enemy of Islam Saudi regime warplanes struck several areas across the Arab impoverished country, violating the UN-sponsored ceasefire.
Al-Manar correspondent in Yemen reported that the Saudi America-led warplanes hit Saada, Shabwa and Taiz, few minutes after the truce went into effect.
The warplanes also struck a house in Jabal Jarra, a truck loaded with food supplies in al-Arish city in Aden province, our correspondent said.
Saudi fighter jetThe relentless air campaign continued into the early hours of Saturday morning, with the Saudi-led warplanes hit Maalla, Khor Mikser and Ribat areas in Lahj province.
Earlier on Friday, the United Nations Security Council called on all sides of the Yemen conflict to observe the break in fighting, which is slated to run up to the end of the fasting month of Ramadan on July 17.
"All parties will need to suspend military operations during the pause," the 15-member UN council said in a unanimous statement, urging all sides "to exercise restraint in cases of isolated violations and to avoid escalation."
Also on Friday, leader of Yemen's Ansarullah movement Abdul-Malik al-Houthi said he was doubtful about the ceasefire.
"We do not have much hope for the truce to succeed," said Huthi in a televised statement on Yemen's al-Masirah television.
The Saudi airstrikes targeted Sanaa on Friday and hit mainly central and southern cities overnight. On Thursday night, an airstrike hit a school housing refugees in the southern province of Lahj, killing nine people and wounding 14 others, residents said.
Yemen has been since March 26 under brutal aggression by Saudi-led coalition. Thousands have been martyred and injured in the attack, with the vast majority of them are civilians.
Riyadh launched the attack on Yemen in a bid to restore power to Yemen's fugitive President Abd Rabbu MansourHadi who is a close ally to Saudi Arabia.
Last week, the UN declared Yemen a level-3 humanitarian emergency, the highest on its scale, with nearly half of the country's regions facing a food crisis.
More than 21.1 million people — over 80 percent of Yemen's population — are in need of aid, with 13 million facing food shortages.
Access to water has become difficult for 9.4 million people, according to the UN.
Source: Al-Manar Website