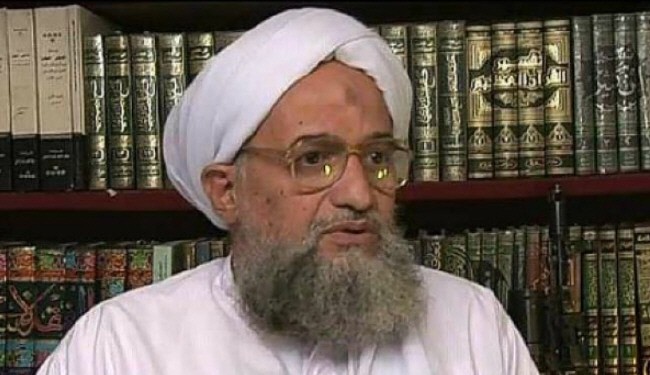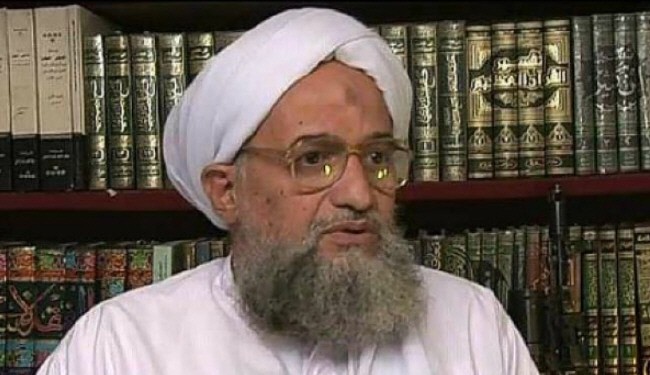 Al-Qaeda leader Ayman al-Zawahiri has urged follower armed groups in Syria to unite, an appeal aimed at rival affiliates of his terror network fighting there to oust President Bashar Assad.
Al-Zawahiri says fighters must "rise above organizational loyalties and party partisanship" and unite behind the goal of setting up a state which the group seeks to form after Syrian government is toppled down.
AL-Qaeda affiliated groups have been fighting along the US-backed militants in a massive insurgency that has already killed more than 100,000 people according to the UN.
Al-Zawahiri however suggested he would not impose unity, saying in an audio message Friday that "what you agree upon will also be our choice."
The war in Syria started in March 2011, when pro-reform protests turned into a massive insurgency following the intervention of Western and regional states.
Since the start of the war al-Qaeda affiliated groups have been emerging under different names in Syria, fighting at the side of the US-backed opposition which is leading one of the bloodiest conflicts in recent history.
Jabhat al-Nusra and the Islamic State of Iraq and al-Sham (ISIS) are the two main militant groups fighting for al-Qaeda in Syria.
The first is commanded by a Syrian and the second by an Iraqi, but both are loyal to al-Zawahri.
The US-backed Syrian opposition is increasingly losing internal support for taking in al-Qaeda linked groups.
The opposition which is suffering from deep divisions and rivalries, recently blew international efforts for holding the Geneva-based talks aimed at ending the bloody conflict.
The groups said it would not negotiate unless a date is set for Assad to leave.