Palestine
Middle East
Resistance Axis
Zionist settler injured in twin bomb attacks on bus stations in al-Quds sent ho hell
An zionist settler who was wounded in bomb attacks on bus stations in the occupied West Bank city of al-Quds earlier this week has succumbed to his injuries.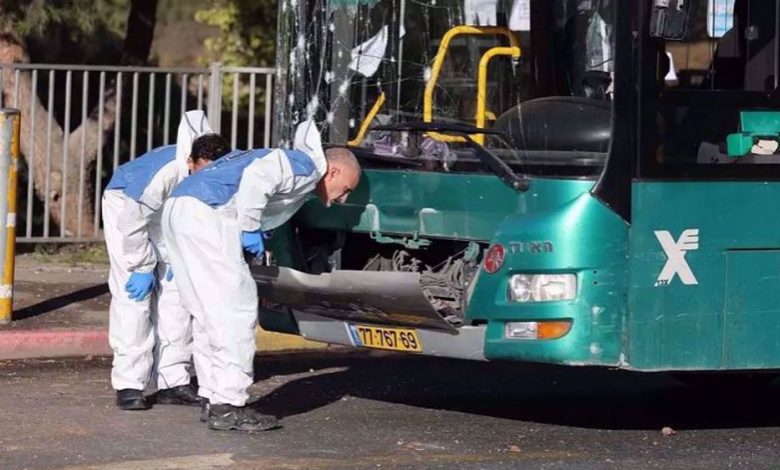 Officials of the hospital where the settler was being treated announced his death on Saturday, saying he was fatally wounded in the attack.
Another Israeli had been already killed in Wednesday's twin blasts, which hit bus stops at the city's western exit.
According to medics, thirteen others were wounded in the incidents, which marked the first bombings to hit the city since 2016.
The first explosion occurred near the Central Bus Station close to the main entrance of al-Quds at 7 a.m. local time and the second blast hit shortly after 7:30 a.m. at the Ramot junction, another entrance to the Israeli-occupied city.
AFP quoted a security source as saying that the explosives were detonated remotely and no group has claimed the attacks.
One Israeli dead, multiple wounded, as two blasts rock bus stations in occupied al-Quds
Two explosions reportedly rock the central bus station at the entrance of the occupied al-Quds, killing at least one Israeli and wounding several Israeli settlers.
Reacting to the blasts, media spokesperson of the Palestinian Islamic Jihad resistance movement, Tarek Ezz El-Din, said the development came in the context of a natural response to the Israeli occupation and its terror and criminal practices against the defenseless Palestinian people.
He added that the explosions were a clear message to the Israeli apartheid leaders that their criminal policies would fail to protect the regime or its settlers in the face of the Palestinian resistance.
Meanwhile, the spokesman of the Palestinian Hamas resistance movement, Muhammad Hamadeh, said, "The Palestinian people are determined to teach the occupation multiple lessons in response to the violent acts it has been taking against the al-Aqsa Mosque."
The bombings came amid a spike in violence across the occupied al-Quds and West Bank, which has claimed the lives of many Palestinians.
During the past few months, Israeli forces have stepped up overnight raids and killings against Palestinians, mainly in the West Bank cities of Jenin and Nablus, where new groups of Palestinian resistance fighters have been formed.
More than 200 Palestinians have been killed by Israeli forces in the occupied West Bank and besieged Gaza Strip since the beginning of 2022, according to the Palestinian Health Ministry.