Palestine
Zionist Settlers Incinerate Mosque in WB City of Nablus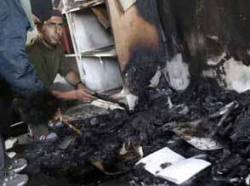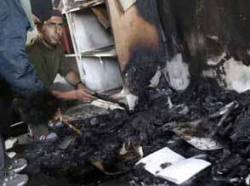 Israeli settlers set fire to a mosque in the Nablus-area village of Aqraba overnight, locals said.
Ghassan Daghlas, a Palestinian official who monitors settlement activity, told Ma'an news agency that a group of settlers broke the doors and windows of the Abu Baker al-Saddiq mosque and vandalized the interior with racist slogans.
The settlers then set fire to part of the mosque before being chased away by Palestinian villagers.
Locals managed to extinguish the fire and prevent it from burning down the whole mosque.
In Jan. 2014, settlers torched a mosque in Salfit and sprayed "Arabs out!" on the building.
The Zionist settlers in the occupied West Bank attack Palestinians and their property routinely yet rarely face prosecution by Israeli authorities.