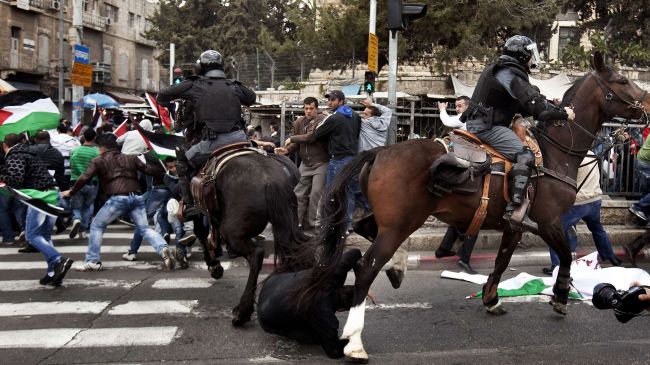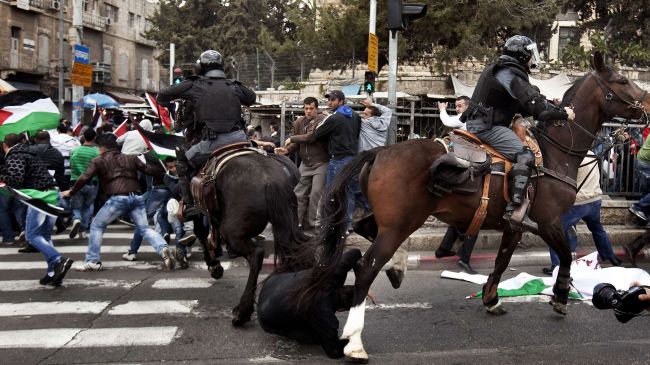 Zionist Slaughterer Israeli forces have opened fire on peaceful Palestinian protesters marking Land Day across the occupied Palestinian territories, injuring two and arresting several others, Press TV reports.
c and Palestinians clashed in the occupied West Bank city of Qalandiya on Friday.
A dozen other demonstrations were also planned for after the Friday Prayers across the West Bank and Gaza Strip as well as in East al-Quds (Jerusalem) despite Tel Aviv restricting access to al-Aqsa Mosque for the weekly prayers.
Pro-Palestinian rallies have been held near border areas in Lebanon and similar demonstrations are expected in Egypt, Jordan, and Syria where activists will also march towards the Palestinian borders.
The rallies, joined by international human rights activists, are part of an international campaign named Global March on al-Quds (Jerusalem), a peaceful international movement that also condemns the Israeli occupation of the holy city.
The event marks Land Day and the Zionist Slaughterer Israeli military's deadly attack on Palestinians peacefully protesting Tel Aviv's land policies in 1967.
The demonstrations have prompted Tel Aviv to deploy thousands of police and armed forces across the occupied Palestinian territories and around border areas near Lebanon and Jordan.