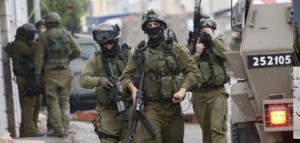 Two citizens were wounded during the clashes between Zionist occupation forces and Palestinian resistance men on Thursday morning 11/2/2010, in the "Juhr Al Deek" district east of Al Bureij central Gaza Strip.
Media sources said that a Zionist special force advanced several meters near "Juhr Al Deek" district, while tanks, stationed east of the region, fired three shells towards the houses of the citizens, which led to the two injuries arrived in the Aqsa Martyrs Hospital in Central Province.
The sources added that the Palestinian resistance clashed with the Zionist forces, and fired several missiles towards the gathering of a number of Zionist military vehicles positioned at the border in the region.
In a related context, Zionist tanks, based on the eastern border of Gaza City, fired number of artillery shells towards the houses and lands of the citizens east of Gaza; no casualties were reported.
According to local sources in Gaza City, three Zionist tanks and a bulldozer moved from occupation bases east of the Strip toward "Malaka" base under intensive shooting, without reported injuries.