Hassan Nasrallah
Lebanon
Middle East
Palestine
Zionist TV: Hezbollah proved it can hit sites considered safe
An Israeli television network admits that the recent attack carried out by Hezbollah fighters against Israeli army positions proved the Lebanese resistance movement has the capability to strike targets "considered safe" inside the occupied territories.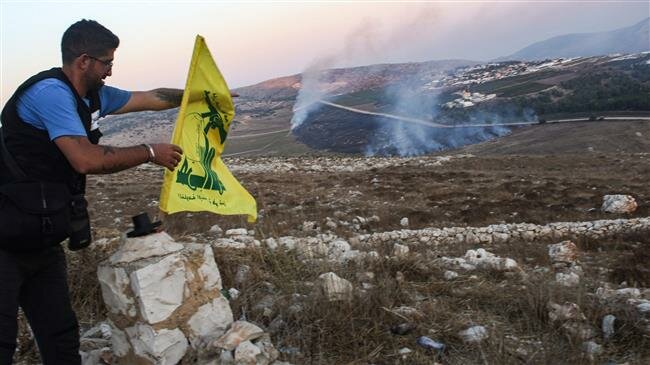 "Hezbollah proved capable of firing at roads that were considered safe in northern Israel," Lebanese Naharnet online media, citing Israel's Channel 12 – also known as Keshet 12, reported on Tuesday.
"The (Israeli) soldiers did not properly plan the route and estimated that they are not exposed to the enemy behind the border," the report added.
On Sunday, Hezbollah fired a number of anti-tank missiles at an Israeli army base and vehicles near the border in response to an Israeli air raid last week that killed two of its fighters in Syria, as well as an Israeli drone attack on southern Beirut.
Hezbollah says targets Israeli military vehicleThe Lebanese Hezbollah resistance movement says it has targeted an Israeli military vehicle near the border.
According to the Lebanese resistance movement, the missiles launched from Lebanon destroyed an armored personnel carrier in Avivim in northern Israel, killing or wounding those inside it. The Israeli military, however, alleged the attack did not lead to any casualties. The Israeli army said it fired 100 shells inside Lebanon in return.
Israel denied that the Hezbollah operation had caused casualties, but photos of Israeli soldiers transporting injured people later spread on social media.
The Arabic-language al-Manar satellite television station affiliated with Hezbollah later aired footage of the attack, documenting its operation.
Hezbollah-linked TV airs footage of anti-Israel attackThe Hezbollah-linked al-Manar television network airs new footage of resistance fighters' attack on Israeli positions in the occupied territories over the weekend.
On Monday evening, Hezbollah Secretary General Sayyed Hassan Nasrallah warned the Israeli regime against any future attacks on Lebanon, stressing that all Israeli forces will be at risk in such a case.
Sayyed Hassan Nasrallah said Sunday's operation by Hezbollah fighters in which an armored Israeli vehicle was hit and completely destroyed, was meant to send the message to Israel that "if you attack, then all your border and forces will be at risk."
All Israeli forces at risk in case of new attack: NasrallahThe leader of the Lebanese Hezbollah movement warns Israel against any future attacks on Lebanon.
"We thank God [for this victory]," he said, and also expressed gratitude towards the group's fighters and commanders, who spent eight consecutive days carrying out the operation.
Nasrallah added that the through the latest operation against the Israeli forces, the resistance group broke the "biggest red line" by targeting forces across the border and inside the occupied territories.