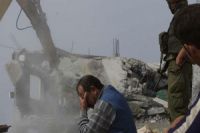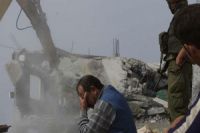 The Zionist regime forces have demolished dozens of Palestinian homes in the Jordan Valley, leaving villagers without shelter in the winter cold, Press TV reports.
The Israeli authorities also seized all shelter and humanitarian aid provided to Palestinian residents whose homes had been demolished by the Israeli army.
Human rights groups have expressed concern over the rising trend of demolition of Palestinian homes across the occupied territories.
The Unites Nations Office for the Coordination of Humanitarian Affairs in the occupied Palestinian territories (OCHA) had provided the humanitarian assistance before the Israeli authorities bulldozed an entire Palestinian village in the Jiftlik area of the Jordan Valley.
The area has been declared a closed military zone by the Israeli army, and media and human rights groups are not allowed to enter the zone.
"What the Israeli army is doing in the Jordan Valley is not new. They are targeting the area where the Bedouins live in the north and south of the Valley. During the previous year, they have escalated their attacks on the area to cleanse it of the Palestinian inhabitants. This is a war crime," Sameh Mohsen, from the Palestinian Human Rights Institute, sain in an interview with Press TV.
"The conditions are terrible for the people. They already have a difficult situation, so the winter is adding to this. Israel always considers itself to be above the international law and they force the international community to accept what they do. They have even shown aggression towards foreign diplomats particularly in the last year," Salah al-Khawaja, a Palestinian activist, told Press TV.
Israeli officials have clarified their position over the Jordan Valley, stating that they aim to annex it to their land. Tel Aviv has also refused a recent deal, brokered by the US, to remove all military presence from the Jordan Valley.