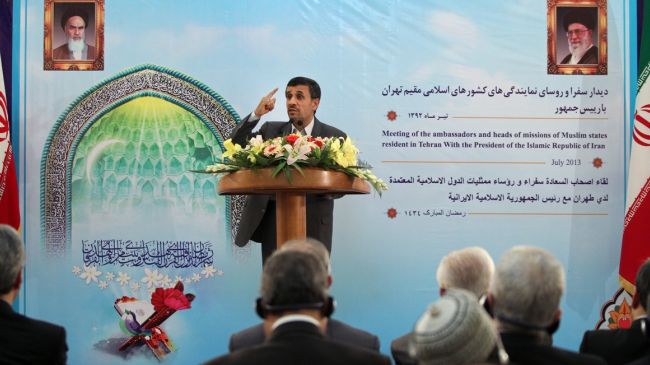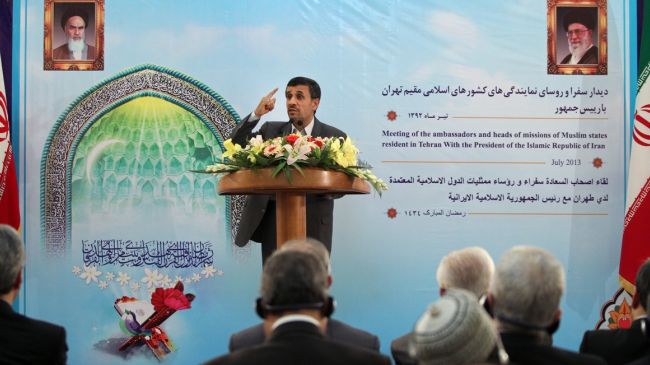 Zionists, hegemonic powers main foes of all Muslim nations: Ahmadinejad
Iran's President Mahmoud Ahmadinejad says the Israeli regime and hegemonic powers are unquestionably the enemies of all Muslim nations.
"Enemies want to our countries in ruins, destroyed, underdeveloped, conflict-stricken and unstable," said Ahmadinejad while addressing the ambassadors and representatives of Muslim countries to Tehran at an Iftar (fast-breaking) meal at the Foreign Ministry Wednesday evening.
The global hegemony wants to see all regional countries in tatters, said President Ahmadinejad, adding, "They want us to be under their domination, [they want] to take our wealth and rebuild something [else] in our countries."
"To fix their bankrupt economies, the enemies want to destroy the economies of all of us," he then underlined.
He further emphasized that whoever is in pursuit of social evolutions should be mindful of whether the Zionists may cash in on his actions.
He said the Islamic Republic is not biased toward any ethnic group or faction, and only maintains that people's rights, dignity and welfare should be preserved.
President Ahmadinejad concluded his remarks by thanking the envoys of the Islamic states for their "friendship, kindness, brotherliness and honest cooperation" during his presidential tenure.
He further asked them to convey his special greetings to their respective heads of government and nations.
Outgoing President Ahmadinejad will be replaced next month by President-elect Hassan Rohani, who won outright in Iran's presidential election in June.