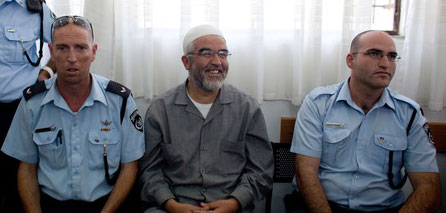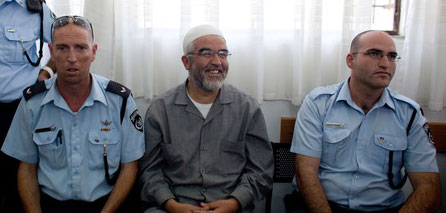 The Zionist entity has imposed a number of restrictions on Sheikh Ra'ed Salah, the detained leader of the Islamic movement in 1948 occupied Palestine, including banning him from talking to the media.
The Sheikh is serving a five-month term in Ramle prison after an Israeli court found him "guilty" of participating in riot incidents, assaulting a policeman and trying to obstruct his duty during a rally against the demolition of the Maghareba gate road.
Al-Jazeera net website said that the Sheikh appeared in court last week and did not say anything except wishing his family and relatives well.
It said that the court guards prevented his family and media from approaching the Sheikh, adding that his lawyer knew later that Sheikh Salah was banned from speaking to the media during his term in prison or else he would face new charges.
Sheikh Salah is also held in isolation and is barred from mingling with other detainees. He is only allowed weekly visits by his lawyer and family for half an hour.
Furthermore, the Israeli prison services refused to supply the Sheikh with books or newspapers.