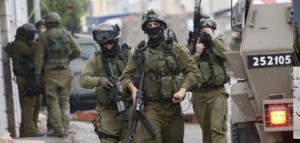 Zionist forces imposed tightened entry restrictions for Palestinians into the Al-Aqsa Mosque compound in occupied East Jerusalem, banning men under 50 from access.
The move follows an increase in security procedures. Residents living beside the compound, known in Arabic as Al-Haram Al-Sharif (the Noble Sanctuary) said that Zionist forces shut down the gates leading into the compound.
Onlookers said a significant Zionist force was dispatched around the Old City and the Al-Aqsa Mosque compound, implementing a police decision on Saturday aimed at "restoring security and order during the Jewish holiday that will end next Tuesday."
Meanwhile, Zionist occupation has imposed a West Bank lockdown over the Jewish holiday, which coincides with the Christian Easter celebrations.
The latest restriction follows the detention of 11 Palestinians in the West Bank city of Bethlehem on Palm Sunday, protesting restrictions preventing Christians from performing religious rites in Jerusalem over Easter.
Dozens of protesters, joined by international peace activists and Muslim supporters, took to the streets after Sunday prayers held for the Christian holiday of Palm Sunday in the Nativity Church.
Participants performed the symbolic march of Jesus Christ to the Church of the Holy Sepulcher in Jerusalem, carrying palm branches and banners denouncing Zionist wall and continued settlement expansion.