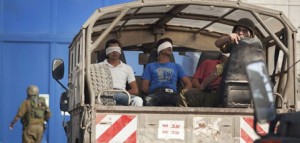 Zionist occupation forces kidnapped on Sunday 28- 3- 2010, three Palestinian demonstrator during a march held before the church of nativity in Bethlehem moving toward the occupied Jerusalem.
Witnesses said that Zionist soldiers suppressed the demonstrators upon their arrival in Beit Safafa near Jerusalem and arrested a number of them at a military checkpoint separating Bethlehem from the holy city, stating that the soldiers attacked some of the participants.
The witnesses identified some of the detainees as: Fadi Hamad, Hassan Brejieh, Mahmoud Zawahra, Abbas Zaki, Mahmoud Alhubani, Ahmed Al Ezza, Marwan Fararjeh, Ibrahim Salah and Tony Shahwan, in addition to some foreign activists.
The witnesses noted that the march was demanding the application of freedom of religion, especially in light of the Zionist prevention of the Christians from entering Jerusalem on the occasion of 'Palm Sunday' which they celebrate at this time every year.