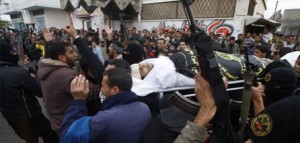 Zionist occupation forces assassinated Qassam member Ali Seoti in Al Khalil city during a military attack. Zionist occupation bulldozers start demolishing a house in the town of Beit Awwa, south of Hebron, under the claim of chasing one of Al Qassam Brigades leaders.
Local sources said that large forces of Zionist army surrounded since early morning a house belonging to the family of Ali Seoti in Beit Awa and launched missiles, bombs at the house.
Palestinian eyewitnesses reported that they heard shooting in the scene and the occupation forces imposed curfew on the town, closed the entrances, and prevented citizens from entering or leaving it.
The military attack caused of martyrdom of Qassam memeber Ali seoti from al Khalil city .
Large forces of military occupation and military bulldozers located in the town, and Zionist officers from the intelligence conducted field investigations with a number of his relatives.