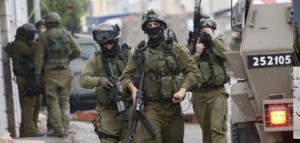 Twenty-five Zionist military jeeps on Wednesday evening surrounded the Jenin-area home of a Palestinian police officer accused of killing a Zionist soldier near Nablus hours earlier.
The home of Muhammad Al-Khatib in the village of Ya'bad was placed under curfew as Zionist occupation questioned his relatives over allegations he attacked a soldier, the army said. Forces questioned Al-Khatib's mother and brothers, the family said.
The army also searched the home for "incriminating evidence," according to a military spokesman, after Al-Khatib allegedly stabbed a soldier through an open window of his military car while waiting at a traffic light near the Tappuh junction and the Za'tara checkpoint.