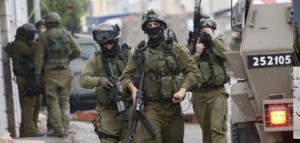 Israeli occupation forces raided today number of houses in Al-Fawar camp in south Hebron.
Israeli patrols travelled in the city neighborhoods and set up military checkpoints in different areas.
The Israeli occupation forces stormed the house of Yousef Al-Titi from Al-Fawar camp and searched it.They also raided number of houses and no detentions were recorded.
The IOF raided different areas in Hebron and set up three checkpoints in the entrances of Hebron; in the entrances of Bait Kahel , Halhoul and Al-Fawar camp.