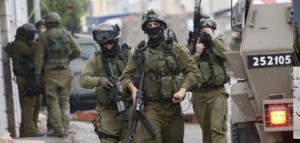 Zionist occupation forces (ZOF) kidnapped a 13-year-old Palestinian girl in Al-Khalil on Tuesday night on charges of "throwing stones" at Zionist settlers near to her home.
Local sources said that the ZOF soldiers broke into the family home of Suhad Al-Iwiwi, in the Old City of Al-Khalil and beat her up along with her parents. Her aunt managed to go with her as she fainted after the beating.
The soldiers took Suhad to a police station in Kiryat Arba settlement east of Al-Khalil for questioning.