Iraq
Middle East
1 killed in protests over poor public services in south Iraq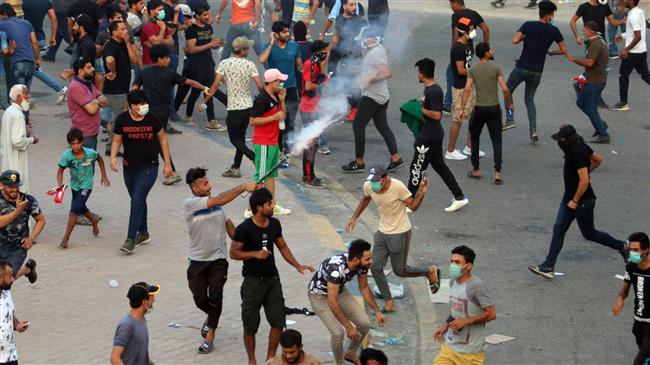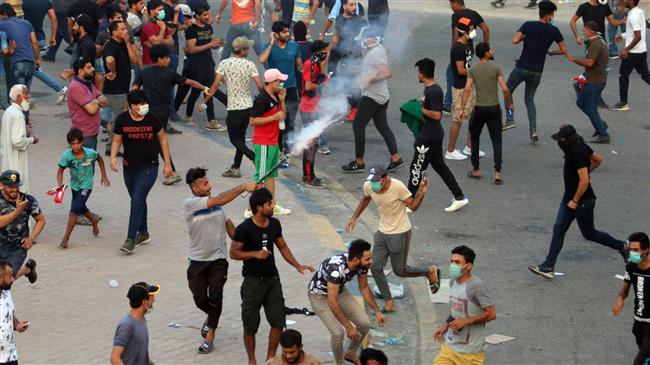 At least one protester has lost his life and 25 others have sustained injuries during clashes with security forces in Iraq's main southern city of Basra, as people continue to rally over poor public services.
Scores of protesters blocked the entrance to the nearby commodities port of Umm Qasr for a third night on Wednesday and set fire to the main provincial government building, local health and security sources said.
Iraq's al-Sumeriya said some of the injured were in critical condition.
AFP put the number of the dead at two.
Security forces fired tear gas and — some local sources claimed — live ammunition to try and disperse the crowd.
On Tuesday, at least six demonstrators were shot dead and nearly 20 others injured when hundreds of people gathered to mourn the death of a protester who had been killed a day before.
The Iraqi army on Wednesday blamed "unidentified gunmen" for the Tuesday death of the six protesters. "The protesters slain yesterday in downtown Basra were killed by unknown gunmen in a car," army commander Jamil al-Shammari said in a statement.
Al-Shammari denied reports that Iraqi security forces had fired on protesters outside provincial headquarters but said that the demonstrations "were not entirely peaceful in nature."
Government buildings in Basra have been the target of demonstrators demanding better public services and an end to alleged corruption.
Jan Kubis, the United Nations (UN)'s envoy to Iraq, has called for "calm" in Basra, asking Baghdad to "investigate and hold accountable those responsible for the outbreak of violence" and "do its utmost to respond to the people's rightful demands of clean water and electricity supplies."
Iraqi Prime Minister Haider al-Abadi said on Tuesday that he had ordered "no real bullets… to be fired in the direction of protesters or in the air."
Iraqi cleric Muqtada al-Sadr, who is hoping to form a new government with al-Abadi, said in a tweet before the latest clashes that "vandals [had] infiltrated" the protesters.