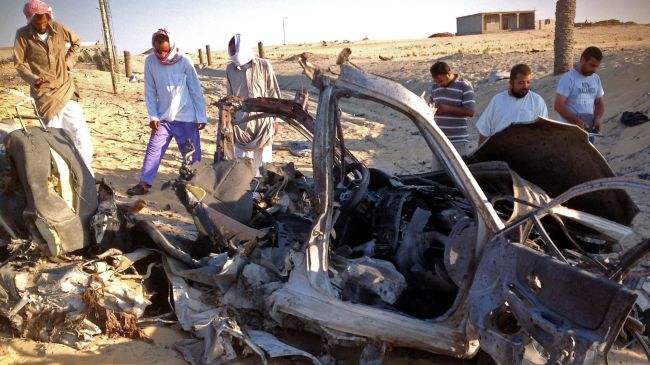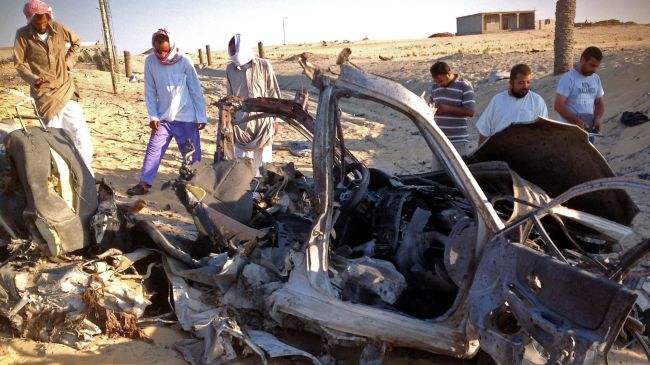 At least 10 people have been injured in a car bomb attack outside a restaurant in Egypt's Sinai Peninsula, security sources say.
The explosion ripped through the town of El-Arish in northern Sinai late on Tuesday as security forces were evacuating a heavily populated area, sources said.
Law enforcement forces launched the evacuation after they suspected a stolen car parked in the area.
No group or individual has yet claimed responsibility for the bombing.
Emergency rule has been declared in parts of northern Sinai since last month's deadly attacks there.
On October 24, some 30 Egyptian soldiers lost their lives and 30 others were wounded when a bomber rammed a vehicle packed with explosives into a checkpoint in the area of Karam al-Qawadees, close to the border with the Gaza Strip.
Hours later, three security personnel were killed when militants opened fire on a checkpoint in the nearby town of El-Arish.
Report say Egypt and Israel have agreed on a plan for the establishment of a so-called security buffer zone along the Egyptian border with Gaza.
The move will see the demolition of about 800 homes, and the construction of a 500-meter (546 yard) wide buffer along about 10 kilometers (6.2 miles) of the border with the besieged Palestinian coastal enclave.
Egypt says the move is vital for the national security and stability.
The Sinai Peninsula has long been considered as a safe haven for gunmen who use the region as a base for their acts.
Since the ouster of Egypt's former President Mohamed Morsi on July 3 last year, gunmen have launched almost daily attacks in Sinai, killing members of security forces.