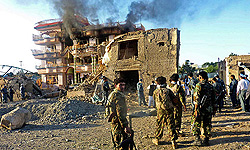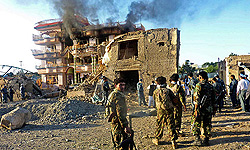 At least 10 people, including civilians and militants, were killed and five policemen were injured during clashes and roadside bomb blasts in various parts of Afghanistan, officials said.
The Taliban killed four workers involved in building a police checkpoint in Southern Helmand province, where a new offensive has been launched.
The shooting took place on Thursday when the workers were busy at the construction site in Sangi square area of Grishk district, governor's spokesman Omar Zwak told Pajhwok Afghan News.
The slain workers had prior threats from the Taliban, but they continued with the job. The dead belonged to Maqur district of Southern Ghazni province.
In Badghis, the rebels attacked a police post overnight in the Jwand district. In the ensuing clash, three attackers were killed and five policemen were wounded, governor's spokesman Sharafuddin Majidi said.
The firefight lasted two hours, he said, adding the injured cops were said to be in stable condition.
In the same province, three civilians were killed in two separate roadside bombings in Qades district on Thursday.
In Helmand, security officials said Afghan forces had launched a new offensive aimed at driving insurgents from border areas.
Codenamed as "Oqab" (Eagle), the offensive that began on Wednesday involved border police, national police, army and intelligence personnel, said a military official, Col. Mehmood.
He said the number of security personnel engaged in the operation reached 500 and that it would continue until all border areas were cleared of insurgents.