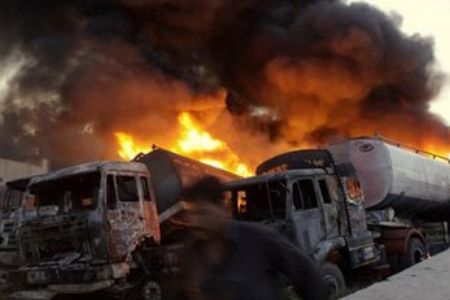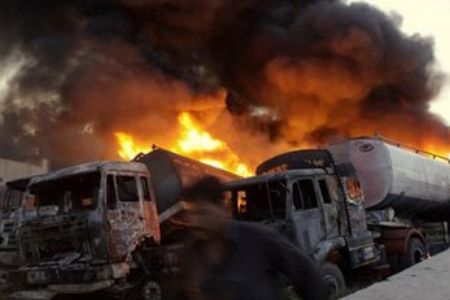 Unknown militants have set at least 10 NATO oil tankers on fire in the city of Peshawar in northwestern Pakistan, security officials say.
Police officials told Press TV that several armed militants attacked an auto-mechanic workshop at Ring Road area in the city on Saturday and set the tankers ablaze.
Police and relief teams reached the spot after the incident and recovered a 2.5-kilogram bomb at the site of the attack. The attackers fled from the scene while opening fire.
The NATO oil tankers were parked at a workshop in Peshawar due to the closure of Pak-Afghan Highway.
Fire brigade teams managed to control the blaze within half an hour. No independent group has claimed responsibility for the attack.
Pro-Taliban militants have destroyed scores of NATO vehicles in northwestern and southwestern Pakistan over the past years.
The militants say the assaults are in retaliation for non-UN-sanctioned US drone strikes inside Pakistan's tribal belt.
Eighty percent of NATO supplies are transported to war-ravaged Afghanistan through Pakistan.
The supply line has become increasingly vulnerable to militant attacks in recent months.