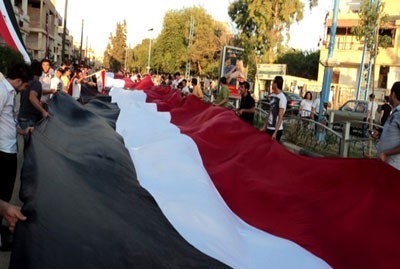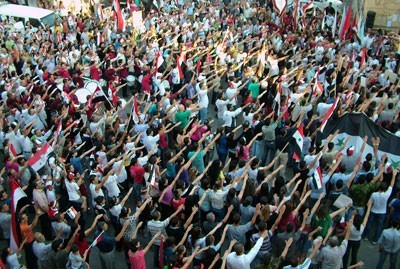 More than 100 thousand people from Safita city and its countryside poured into the streets in a mass rally, expressing support for the comprehensive reform program and rejection of foreign interference which aims at destabilizing Syria.
The participants chanted slogans hailing national unity and observed a minute of silence for the souls of the martyrs.
Bashar Bashour, a participant, said the rally is a message against anyone who seeks to undermine the dignity of the country and citizens.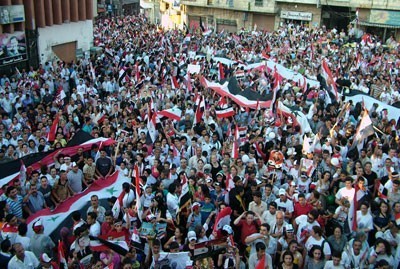 Wassim Tayyar, another participant, said the people of Safita gathered to bring home the fact that demands are not claimed through killing, but through national dialogue.
Jumana Nader said the rally is an expression of the people's love to their leader and appreciation of the army who brought back security to people.
Preacher of Imam Hussein Mosque in Safita Sheikh Monzer Ahmad al-Khatib said "Syria today is making history, proving to be invincible and unaffected by conspiracies."
Hasaka Youths Raise 230 Meters Long Syrian Flag
In Hasaka governorate, youths organized a campaign during which participants raised a 230 meters long Syrian flag and a 6 meters high picture of President Bashar al-Assad.
Raed Khabbaz, one of the campaign's organizers, said that the event was a youth initiative to affirm national unity in response to sedition and division, sending a clear message that Syria's youths are the pillar of reform.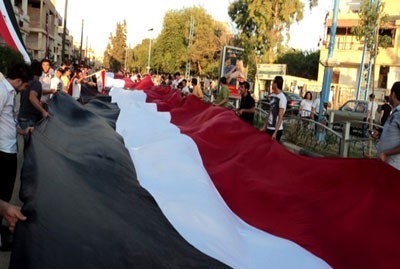 Participant Dalida Shouri said that the campaign is proof of solidarity among Syrians in the face of those who attempt to sow sedition and target coexistence.
Hundreds of cars drove across Hasaka governorate on Sunday evening, raising flags and pictures of President al-Assad and repeating slogans affirming that the conspiracy has been revealed and that Syria will emerge stronger than ever.