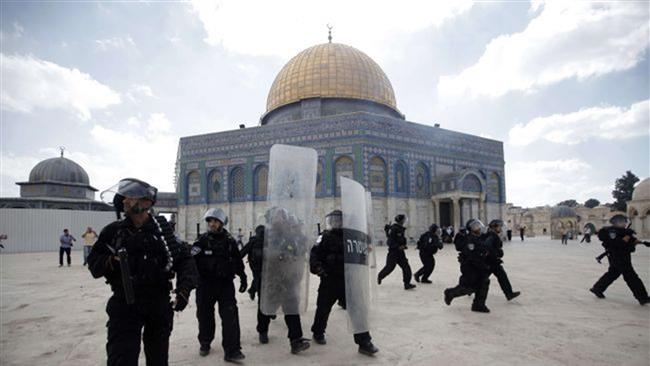 Approximately one thousand Israeli settlers in January alone have invaded the holy al-Aqsa Mosque Compound in East Jerusalem al-Quds.
Some 965 Israeli settlers accompanied by Israeli security forces stormed the holy Islamic site in January, said the al-Aqsa Foundation for Endowment and Heritage.
Israel continues to restrict the movement of Palestinian worshipers to the al-Aqsa Mosque. The invasion has led to many conflicts between Palestinian worshipers and Israelis.
Nearly 90 percent of Palestinians believe that Israel is going to destroy the al-Aqsa Mosque and replace it with a temple, a new survey shows.
The Tel Aviv regime has tried to change the demographic makeup of al-Quds over the past decades by constructing illegal settlements, destroying historical sites and expelling the local Palestinian population.
The al-Aqsa Mosque compound, located in the Israeli-occupied Old City of al-Quds, is a flashpoint Islamic site, also holy to the Jews. The mosque is Islam's third holiest site after Masjid al-Haram in Mecca and Masjid al-Nabawi in Medina.